Image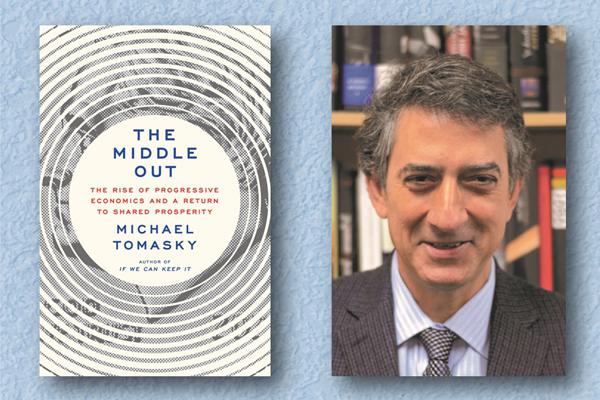 September 22, 2022
7:00PM - 9:00PM
Location
Gramercy Books, 2424 East Main Street Bexley, OH 43209
Date Range
Add to Calendar
2022-09-22 19:00:00
2022-09-22 21:00:00
Political Journalist Michael Tomasky Discusses America's Economic Future with Historian and Author David Stebenne
Gramercy Books, 2424 East Main Street Bexley, OH 43209
OSU ASC Drupal 8
ascwebservices@osu.edu
America/New_York
public
Date Range
Add to Calendar
2022-09-22 19:00:00
2022-09-22 21:00:00
Political Journalist Michael Tomasky Discusses America's Economic Future with Historian and Author David Stebenne
Gramercy Books, 2424 East Main Street Bexley, OH 43209
Department of History
history@osu.edu
America/New_York
public
Advanced
Text
Join political journalist Michael Tomasky as he discusses his new book, The Middle Out, which explores an alternative version of capitalism where prosperity is achieved from a thriving middle class. Tomasky will be in conversation with David Stebenne, a specialist in American political and legal history, and economic and labor issues.
Registration for this in-person event is on Eventbrite. The purchase of The Middle Out waives the $5 admission fee. Registration closes at 6 pm the day of the event.
The OHIO STATE UNIVERSITY DEPARTMENT OF HISTORY is Gramercy's Community Partner for this program.
Political journalist Michael Tomasky tracks an exciting change among progressive economists who are overturning decades of conservative dogma and offering an alternative version of capitalism that can serve broadly shared prosperity to all.
In the first half of the twentieth century the Keynesian brand of economics, which saw government spending as a necessary spur to economic growth, prevailed. Then in the 1970s, conservatives fought back. Once they got people to believe a few simple ideas instead—that only the free market could produce growth, that taxes and regulation stifle growth—the battle was won. The era of conservative dogma, often called neoliberal economics, had begun. It ushered in increasing inequality, a shrinking middle class, and declining public investment. For fifty years, liberals have not been able to make a dent in it. Until now. 
In The Middle Out, Tomasky narrates this history and reports on the work of today's progressive economists, who are using mountains of historical evidence to contradict neoliberal claims. Their research reveals conservative dogma to be unfounded and shows how concentrated wealth has been built on the exploitation of women, minorities, and the politically powerless. Middle-out economics, in contrast, is the belief that prosperity comes from a thriving middle class, and therefore government plays a role in supporting families and communities. This version of capitalism—more just, more equal, and in which prosperity is shared—could be the American future.  
Michael Tomasky was appointed top editor of The New Republic in March 2021. He is also editor of Democracy: A Journal of Ideas, a contributing opinion writer for The New York Times, and a regular contributor to The New York Review of Books. He is the author of four books: Left for Dead (1996), Hillary's Turn (2001), Bill Clinton (2017), and If We Can Keep It (2019).
David Stebenne is a specialist in modern American political and legal history. His most recent book is Promised Land: How the Rise of the Middle Class Transformed America, 1929-1968. He has published political commentary in The Conversation, the Huffington Post, The New Republic, The Observer, and Salon and has appeared on National Public Radio's All Things Considered to discuss politics, the economy, and labor issues. A native of Rhode Island and Maryland, he teaches history and law at The Ohio State University.   

$28.00
Events Filters:
---