January 14, 2022
Kristina Sessa Awarded NEH Fellowship
Image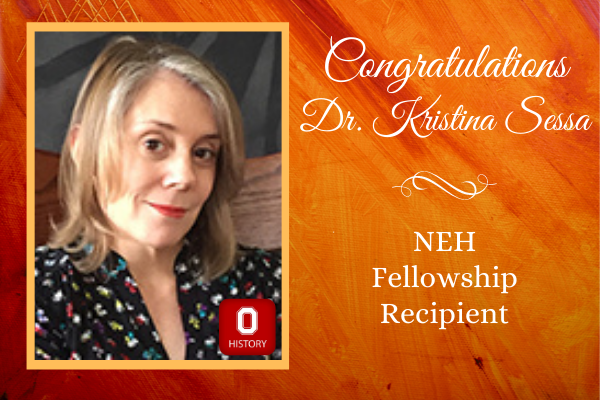 Description
Congratulations to Professor Kristina Sessa on receiving a National Endowment for the Humanities Fellowship. She shares that, "it's a fellowship that will allow me to research and write a new book, Disaster in Late Antiquity: A Cultural and Material History.  The project examines what disasters (man-made and natural) meant to people living in the late Roman empire and post-Roman kingdoms from around 300 to 700 CE, and how people differentially experienced disasters like war, pandemics, and earthquakes."
 
[From the College of Arts & Sciences website:]
 
Sessa awarded National Endowment for the Humanities grant
Kristina Sessa, a professor in the Department of History, was awarded a National Endowment for the Humanities (NEH) grant, which recognizes and supports humanities initiatives, innovative digital resources, conservation, research and infrastructure projects at cultural institutions and college campuses.
Sessa specializes in studying ancient and medieval history, with a particular focus on the social and cultural history of Late Antiquity between 250 and 700 CE and the intersection between classic Roman culture and early Christianity in the late Roman West. She was awarded $60,000 for her project, titled "Disaster in Late Antiquity: A Cultural and Material History," which will enable her to conduct research for an upcoming book on natural and man-made disasters in Late Antiquity.
"I am very grateful to the NEH for supporting my project," Sessa said. "I look forward to the time that it will afford me to think more about disasters in the deep past, and how historical perspectives might give us insight into our cultural responses to present-day disasters, such as the SARS-CoV-2 pandemic and climate change."
The NEH awarded a total of $24.7 million in grants to 208 humanities projects across the country. The funding will go toward projects ranging from supporting Oakwood University's creation of a living history museum based on the life of Dred Scott to the digitization of 18th- and 19th-century North American climate and weather data.
"These NEH grants will support educators and scholars in enriching our understanding of the past and enable cultural institutions from across the country to expand their offerings, resources and public programming, both in person and online," said NEH Acting Chair Adam Wolfson. "We look forward to the many new insights and discoveries that these 208 exemplary projects will make possible."
---