April 30, 2021
Student Spotlight: Colin Adler
Image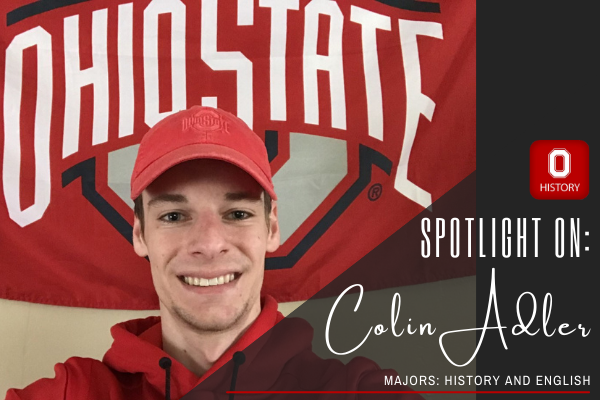 Description
Colin Adler is a double major in history and english from Cincinnati, Ohio.
What do you love most about history?
What I love most about history is that it is always relevant to the present. By looking to the past, we can often find similar situations and events to those that transpire today, and we can use that knowledge to inform ourselves about the best possible actions to take going forward.
What are the favorite history courses you have taken?
I like American history courses the best, especially when they incentivize or require original research. I really enjoyed History 4015H Seminar in Modern U.S.
Do you have a favorite professor or professors? Who are they and why?
All the history professors that I've met at OSU have been excellent, but the three that really stand out are Professor Joan Cashin, Professor James Harrill, and Professor David Stebenne. I took a history course with Professor Cashin in my first semester at the university to fulfill a general education requirement back when I was only an English major, and she encouraged me to consider double majoring in English and History, which was the best academic decision I've ever made. I took a class with Professor Harrill recently which focused mostly on ancient history which was something that I had little knowledge of prior to the course. But he encouraged me to try to do work and research outside of the subject areas that I was familiar with and I became a better writer and a better student as a result. Professor Stebenne does an excellent job connecting the past and the present in American history, and his classes are a constant reminder of why the study of American history continues to be relevant in the unique political landscape of today. Every history professor I've studied under has had a genuine interest in the course material and has been eager to help students along their academic journeys.
What's one thing you wish every Buckeye knew about the past (and/or the history department)?
The study of history isn't just a useful tool for getting ready for trivia night—it's a fluid, ever-changing study that enhances our understanding of the world around us and informs our decision-making process as we move forward. History isn't always "old" either. Historians are constantly studying the present while keeping an eye to the past. I wrote a paper last semester about the first non-civilian to hold the office of Secretary of Defense (General George Marshall, 1950). A few days later, President Biden announced that his nominee for Secretary of Defense was General Lloyd Austin, whose nomination prompted the same debate about civilian control of the military that I had written about in my paper on Marshall only days prior. I wish every Buckeye knew that experiences like these are what make the study of history so exciting, and that there is much more to history than trivia and fun-facts.
---