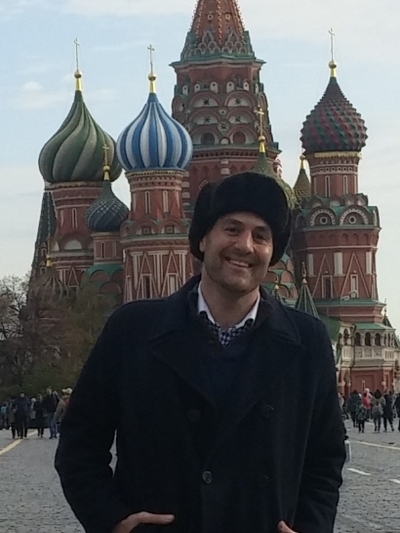 Pietro Shakarian
Graduate Student
Areas of Expertise
Russian and East European History
Modern European History
Caucasus History
Power, Culture and the State
Education
University of Michigan (MA in Russian, East European, and Eurasian Studies, 2015)
Kent State University (MLIS in Special Collections and Preservation, 2013)
John Carroll University (BA in History, 2012)
Bio:

A native of Cleveland, Pietro Shakarian entered the PhD program in History at OSU in 2016. Prior to OSU, he earned his MA in Russian, East European, and Eurasian Studies at the University of Michigan in Ann Arbor, his MLIS at Kent State University, and his BA in History at John Carroll University in Cleveland.
With the aid of the Cleveland Public Library's John G. White Special Collection, Pietro republished rare books of historical interest on the Caucasus in the Tsarist and Soviet eras. These included Friedrich Parrot's
Journey to Ararat
(1846), Baron August von Haxthausen's
Transcaucasia
(1854-55), and Aghavnie Yeghenian's
The Red Flag of Ararat
(1932). All three books were published by the Gomidas Institute in London. In addition, Pietro has written analyses on Russia and the former Soviet region for various news publications, including
The Nation, The Plain Dealer
and the 
Russian International Affairs Council
, and he has appeared as a guest on
The John Batchelor Show
and other programs. Since 2015, he has run the
Reconsidering Russia
podcast series, featuring interviews with various experts on Russia and the post-Soviet space. He also contributed several entries to
The Encyclopedia of Cleveland History
at Case Western Reserve University related to Russia and the Russian-speaking community of Cleveland.
His main interest is 19th and 20th century Russian and Eurasian history and the ways in which Russia's multiethnic composition influences its politics and historical development.  His dissertation research focuses on Soviet Armenian statesman Anastas Mikoyan and the Soviet nationality policy during the Khrushchev era (1953-64).  His research interests also include the history of the Caucasus and the Russian/Soviet avant-garde.  Outside of Russia and the post-Soviet space, he studies film history and jazz history.
 
Selected Publications:

Books:
Transcaucasia and the Tribes of the Caucasus.  London: Gomidas Institute, 2016.  Originally published 1854-55.  Written by Baron August von Haxthausen, translated by John Edward Taylor, with a foreword by Dominic Lieven and a critical introduction by Pietro A. Shakarian.
Journey to Ararat.  London: Gomidas Institute, 2016.  Originally published 1846.  Written by Friedrich Parrot, translated by William Desborough Cooley, with a critical introduction by Pietro A. Shakarian.  Additional archival material courtesy of Erki Tammiksaar of the University of Tartu, Estonia and Vahram Kosakyan of the Khachatur Abovian House-Museum, Yerevan, Armenia.
The Red Flag at Ararat.  London: Sterndale Classics (Gomidas Institute), 2013.  Originally published 1932.  Written by Aghavnie Yeghenian and introduction by Pietro A. Shakarian.
Academic Papers:
Articles for OSU Publications:
Articles for General Publications:
People Filters: