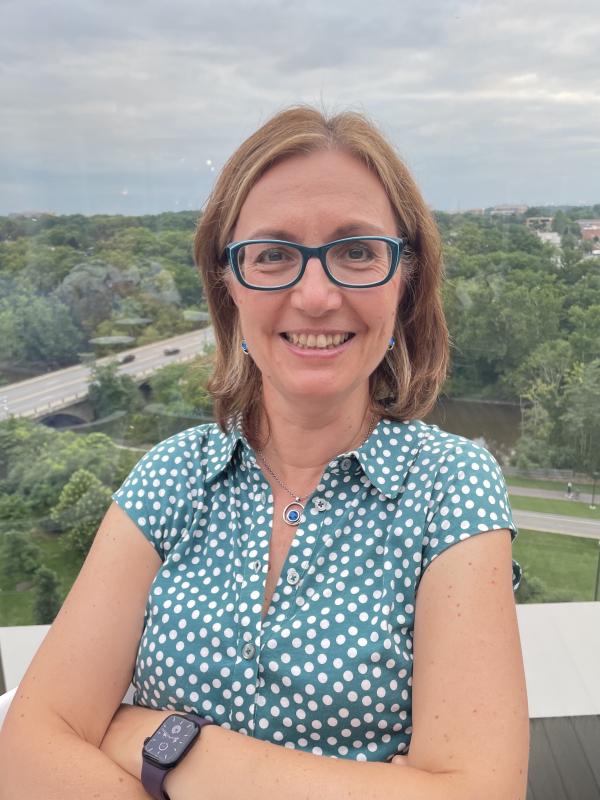 Theodora Dragostinova
Professor
she/her/hers
236 Dulles Hall
230 Annie and John Glenn Avenue
Columbus, OH
43210
Areas of Expertise
Modern European History
East European History
Race, Ethnicity, and Nation
Theodora Dragostinova is a professor of history at The Ohio State University. Her work focuses on nationalism, migration, global history, and Cold War culture. Geographically, her research is focused on eastern Europe, with an emphasis on the Balkans and Bulgaria, but she also engages with comparative perspectives on Modern Europe in a global perspectives.
A native of Bulgaria, Professor Dragostinova completed a B.A. in History and Archaeology at the University of Athens, Greece; a M.A. in History at the University of Florida; and a PhD in History at the University of Illinois at Urbana-Champaign. 
Professor Dragostinova is the author of Between Two Motherlands: Nationality and Emigration among the Greeks of Bulgaria, 1900-1949 (Cornell University Press, 2011). This book was shortlisted for the Joseph Rothschild Prize in Nationalism and Ethnic Studies of the Association for the Study of Nationalities; and the Edmund Keeley Book Prize of the Modern Greek Studies Association. The book was awarded the Past President Bronze Award from the Association for Borderlands Studies.
Expanding her work on nationalism, Professor Dragostinova co-edited the volume Beyond Mosque, Church, and State: Alternative Narratives of the Nation in the Balkans (Central European University Press, 2016). 
In the meantime, she started working on a Cold War project, and in Fall 2018 co-edited a thematic cluster, "Beyond the Iron Curtain: Eastern Europe and the Global Cold War," for the flagship journal Slavic Review (with Malgorzata Fidelis).
Professor Dragostinova's second book, The Cold War from the Margins: A Small Socialist State on the Global Cultural Scene, was published by Cornell University Press in 2021. Based on research in Bulgaria, Hungary, Great Britain, Austria, Germany, France, and the United States, this book engages the global Cold War through the experiences of a small state, Bulgaria, and its cultural engagements with a variety of actors in the Balkans, the West, and the Third World. 
In 2018-2020, Professor Dragostinova served as a Faculty Fellow of the Global Arts + Humanities Discovery Theme where she also led the Migration, Mobility, and Immobility project. In 2022-2024, Professor Dragostinova will serve as a Research Leader for the research cluster, Peripheries and Centers: Imagining Global Security from the Margins, of the Mershon Center for International Security Studies.
Listen to Professor Dragostinova discuss the 25th anniversary of the fall of communism in Eastern Europe and read her piece on the Revolution of 1989 from 2009.
Listen to her podcast interview reflecting on the 30th anniversary of the fall of communism in Eastern Europe, the rise of nationalism in the 21st century in a global perspective, and the role of culture during the Cold War and today, a part of the ASC's Voices of Excellence podcast.
Listen to Professor Dragostinova discuss the current refugee crisis in Europe and read her article on the refugee crisis in historical perspective.
Follow her on Twitter @theodora_dragos
People Filters: