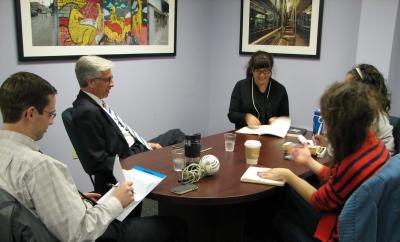 The Department of History is committed to a tradition of academic excellence. As noted in "A Brief History of the History Department of The Ohio State University," our first Ph.D. was awarded in 1925 to John K. Warren, and our second Ph.D. was awarded soon after to Ruth Loving Higgins. Our large and distinguished faculty provides a notable diversity of historical fields. More than 80 graduate students from across the United States and around the world are currently pursuing a PhD within the Department. Many students and faculty members also participate in the programs and activities of other Departments and interdisciplinary Centers. The University is internationally renowned for its research facilities and its support services.
2022 -- Theodora Dragostinova
2018 -- Greg Anderson
2018 -- Bart Elmore
2015 -- Robin Judd
2013 -- David Hoffmann
2012 -- Hasan Kwame Jeffries
2011 -- Nicholas B. Breyfogle
2011 -- Scott Levi
2009 -- Randolph Roth
2009 -- David H. Steigerwald
2006 -- Geoffrey Parker
2005 -- Mitchell Lerner
1998 -- Mark Grimsley 
Please see our Graduate Resource Page for current graduate students.
Learn about our Fields of Study.
Application and other information for prospective applicants.
Contact the Graduate Student Advisory Committee (GSAC).
Placement
Of those who have graduated from our program with their PhD within the last five years, 97.47% have found acceptable job placement, identified as a job where their doctoral degree is used and may be necessary. 74.68% have found ideal job placement, identified as a permanent job where their doctoral degree is required, such as a tenure-track faculty position or non-academic careers such as policy work, defense analysis, research professionals, scholarly editing, museum research/administration, etc.
Title IX Statement
Title IX makes it clear that violence and harassment based on sex and gender are Civil Rights offenses subject to the same kinds of accountability and the same kinds of support applied to offenses against other protected categories (e.g., race). If you or someone you know has been sexually harassed or assaulted, you may find the appropriate resources at http://titleix.osu.edu or by contacting the Ohio State Title IX Coordinator at titleix@osu.edu.