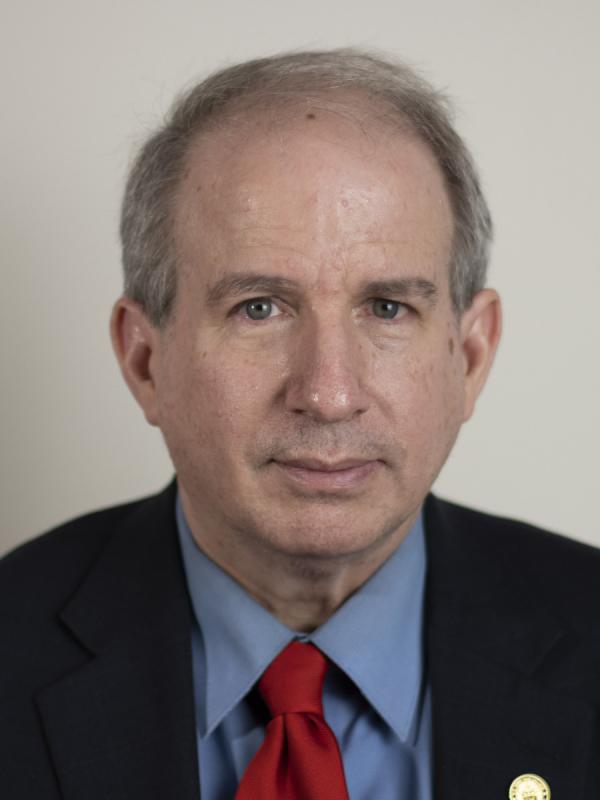 Mark Grimsley
Associate Professor
330 Dulles Hall
230 Annie & John Glenn Avenue
Columbus, OH
43210

Office Hours
During the pandemic, Prof. Grimsley's office hours are held via Zoom and by appointment. To arrange a meeting, just send an email to grimsley.1@osu.edu.
Areas of Expertise
US History to 1877
Military History
Human Conflict, Peace, and Diplomacy
B.A., History, The Ohio State University, 1982; M.A., War Studies, Kings College London, 1985; Ph.D., History, The Ohio State University, 1992.

Professor Grimsley received an MA in War Studies from Kings College London in 1985 and a PhD in History from The Ohio State University in 1992. He teaches American military history with an emphasis on the Civil War.
He is the author of The Hard Hand of War: Union Military Policy Toward Southern Civilians, 1861-1865 (New York and London: Cambridge University Press, 1995), which won the Lincoln Prize.
He co-authored Warfare in the Western World, for many years the military history textbook used by the U.S. Military Academy at West Point. Other works include Civilians in the Path of War (Lincoln: University of Nebraska Press, 2002) (with Clifford J. Rogers); The Collapse of the Confederacy (Lincoln: University of Nebraska Press, 2001) (with Brooks D. Simpson); And Keep Moving On: The Virginia Campaign, May-June 1864 (Lincoln: University of Nebraska Press, 2002), Gettysburg: A Battlefield Guide (Lincoln: University of Nebraska Press, 1999) (with Brooks D. Simpson), and Shiloh: A Battlefield Guide (Lincoln: University of Nebraska Press, 2006) (with Steven E. Woodworth).
Prof. Grimsley has had a lifelong interest in writing for the general public.  His first article, "Overthrown:  The Truth about the McClellan-Scott Feud," was published in Civil War Times Illustrated in November 1980, a month after his 21st birthday.  In the years since, he has written over 100 articles, essays, and columns for general readers.  Currently, Prof. Grimsley writes a regular column, "Battle Films," for World War II magazine.  The column offers reflections (not reviews) of motion pictures that offer insight into the Second World War.  Many films are seemingly unusual choices.  For example, one column used the science fiction movie Starship Troopers (1997) to discuss the appeal of fascism.  Another column pointed to the musical Cabaret (1972) as a chilling portrait of Germany's descent into Nazism.
Prof. Grimsley is the recipient of three teaching awards.  In 1994 the OSU chapter of Phi Alpha Theta selected him for its Clio Award for Distinguished Teaching in History. Three years later he received the Ben Jones Award for Outstanding Teaching from the College of Humanities, and in 1999 was honored with the Alumni Award for Distinguished Teaching, Ohio State's highest award for teaching excellence.
From July 2008 through June 2010, Prof. Grimsley served as a visiting professor at the U.S. Army War College, where he held the Harold Keith Johnson Chair of Military History. During his time at the war college he transformed the Johnson Chair from a scholar-in-residence program at the U.S. Army Military History Institute, co-located with the war college but not part of it, into a faculty position centrally involved with supporting the war college's core mission:  the provision of graduate-level education to instruction to senior military officers and civilians to prepare them for senior leadership assignments and responsibilities.  For this achievement he became the first holder of the Johnson Chair to be invited to hold the chair for a second year, and at the conclusion of his tenure was honored with the Department of the Army's Outstanding Civilian Service Medal.
In the early 2000s, Prof. Grimsley became a noted pioneer in academic blogging and other emerging social media tools, which he used to advocate in favor a broader vision of the field of military history.  In 2011 the Society for Military History (SMH) recognized these efforts by creating the Mark Grimsley Social Media Fellowship.  The fellowship provides a stipend to the Social Media Fellow responsible for the operation of the SMH's Twitter Page and for involvement in all other aspects of the Society's social and electronic media presence. 
Diagnosed with bipolar disorder at age 26, Prof. Grimsley has for most of his life been an outspoken mental health advocate focused on the elimination of the stigma associated with mental illness.  He has published several articles on his personal experiences with the management of his disorder, including "An Inappropriate Illness," Inside Higher Ed (September 2006); and "The 'Third Resource':  Managing Mental Illness in Academe," American Historical Association Perspectives in History (November 2017).  He has also served as a volunteer line worker for Suicide Prevention Services in Franklin County, Ohio, and is currently at work on a book entitled Answering the Cry for Help:  The Modern Study of Suicide and Suicidal Behavior in the United States, 1949-2019.
(Persons experiencing suicidal thoughts are urged to seek support through the Franklin County Ohio Suicide Prevention Hotline at 614-221-5445; or the National Hotline at 800-273-TALK.)
People Filters: