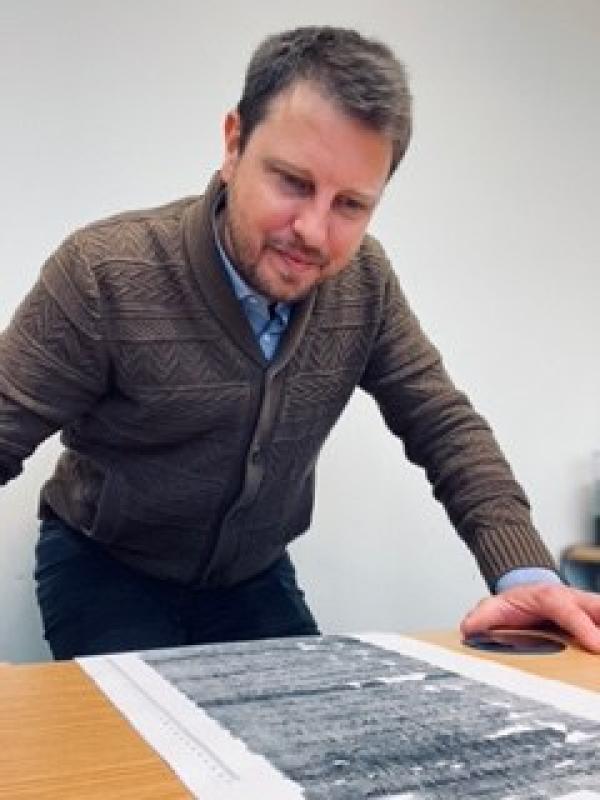 James D. Moore
Asst. Professor Dept. of Near Eastern & South Asian Languages & Cultures
319 Hagerty Hall
1775 College Rd. S
Columbus, OH 43210
Areas of Expertise
Northwest Semitic Epigraphy
Achaemenid Mediterranean Social History
Hebrew Bible
Ancient Near Eastern Scribal Culture
(Religious) Economies and Empire
Education
Ph.D., Brandeis University, Near Eastern and Judaic Studies, Emphasis: Bible and Ancient Near East
James D. Moore is a philologist and social historian of the ancient Near East and ancient Mediterranean. In addition to his OSU post, he is Chargé de Conférence at the École Pratique des Hautes Études (2023–2024), and a collaborator on the ERC project SLaVEgents: Enslaved persons in the making of societies and cultures in Western Eurasia and North Africa, 1000 BCE - 300 CE (2023–2028).
He publishes broadly in ancient Near Eastern studies, has edited hundreds of new Northwest Semitic documents (in Aramaic, Phoenician, and Hebrew), written on ancient Hebrew and Aramaic literatures, and publishes frequently on social history and scribal culture. He advocates for the incorporation of digital resources in the study of languages and culture.
He teaches Near Eastern Languages, Hebrew Bible, and ancient historical courses.
Books
Recent Articles and Contributions
"Les papyrus sémitiques et moyen‑perse du cabinet du Corpus inscriptionum semiticarum," Comptes rendus AIBL (2021/2) (2023): 581–614.
"Traces of Administrative Reform in the Hebrew and Aramaic Epigraphs of the Al-Yahudu and Related Tablets," NABU 2023/1: 66–69. 
"AIBL-CIS de Ricci 2: A New Jewish and Aramaic Religious Text from Egypt Dating between the Early 2nd and Early 4th Centuries ce," DSD 30 (2023): 1–23. 
"New Phoenician and Aramaic Labels and Ostraca from Excavations at Syene and Elephantine between 2010–2015," Semitica 64 (2022): 71–130.
"The Aramaic and Hebrew Epigraphs on the Tablets in and around Iahūd," in Judaeans by the Waters of Babylon, 371–382, ISLET 2022.
"Teaching Digital Editions of the Bible and Ancient Sources: A Reflection," H2D 3/1 (2021), 
"'Ahikariana': New Readings of Berlin P. 13446 and Developments in Ahiqar Research," in Elephantine in Context, 237–264, Mohr Siebeck 2021.
"Who Gave You a Decree? Anonymity as a Narrative Technique in Ezra 5:3, 9 in Light of Persian Period Decrees and Administrative Sources," JBL 140 (2021): 69–89.
People Filters: