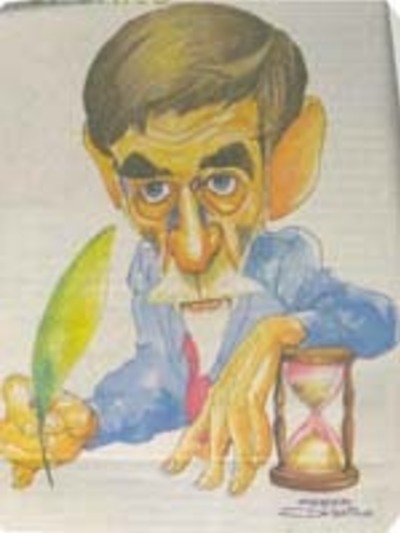 Geoffrey Parker
Distinguished University Professor and Andreas Dorpalen Professor of European History
173 Dulles Hall
230 Annie & John Glenn Avenue
Columbus, OH
43210
Areas of Expertise
Early Modern European History
Military History
Environment, Health, Technology, and Science
Human Conflict, Peace, and Diplomacy
Education
1981 - Litt.D., Cambridge University for publications in early modern European history
1968 - M.A. and Ph.D. in History, Cambridge University
1965 - BA in History, Cambridge University
(The image of Professor Parker is a cartoon of him which was published in a Spanish newspaper.)
(Professor Parker's Curriculum Vitae)
Geoffrey Parker, Distinguished University Professor and Andreas Dorpalen Professor of European History.
I was born in Nottingham, England, in 1943 and studied history at Christ's College Cambridge (BA 1965; Ph.D. 1968; Litt.D. 1981) After teaching at the Universities of Cambridge, St Andrews (Scotland) and British Columbia (Canada), I moved to the University of Illinois at Urbana-Champaign as Charles E. Nowell Distinguished Professor of History in 1986 and to Yale University as Robert A. Lovett Professor of Military and Naval History in 1993 before joining the faculty of the OSU History Department and the Mershon Center in January 1997.
I teach courses on the Reformation, European history and military history at both undergraduate and graduate levels. I have directed or co-directed 6 Senior Honors essays and 35 Doctoral Dissertations to completion. In 2006 I won an OSU Alumni Distinguished Teaching Award.
I study the social, political and military history of Europe between 1500 and 1650, with special reference to Spain and its empire. My first book was The Army of Flanders and the Spanish Road. The logistics of Spanish victory and defeat in the Low Countries Wars, 1567-1659 (1972; revised edition 2004), based on my Ph. D. thesis. This book tried to explain why Spain – the only western superpower of its day – failed to suppress the Dutch Revolt. I then published a biography of Philip II (1978, third edition 2002; translated into Spanish, Czech, Dutch, Italian and Polish); The Grand Strategy of Philip II (1998); and, with Colin Martin (one of my former graduate advisees) The Spanish Armada first published in 1988 (the 400th anniversary), with a revised and expanded edition in 1999.
My other books on early modern Europe include Europe in Crisis, 1598-1648 (1979; revised edition, 2000), The Dutch Revolt (revised edition, 1984; Spanish, German and Dutch translations), and The Thirty Years' War (revised edition, 1997; French, German and Spanish translations).
My best-known book is probably The Military Revolution. Military innovation and the rise of the West, 1500-1800,first published by Cambridge University Press in 1988 and winner of two book prizes. An expanded edition came out in 2002, with Chinese, French, Italian, Japanese and Spanish translations. I plan to publish a third, thoroughly revised edition in 2022.
I edited and co-authored  both The Cambridge Illustrated History of Warfare (1995) and The Cambridge History of Warfare (2005, with Chinese, Korean, Spanish, Polish and Spanish translations). New editions of both works appeared in 2020, extending the narrative and analysis down to 2018.
I am also interested in world history, and edited The Times History of the World (third edition, 1995, many foreign language editions), the third edition of The Times Atlas of World History (1993), and The Times Compact Atlas of World History (fifth edition, 2008, many foreign language editions.)
So far I have authored, edited or co-edited 40 books and over 100 articles and book chapters. 
In 2013 Yale University Press published The Global Crisis: war, climate, and catastrophe in the 17th-century, concerning the climatically-induced crisis that created acute political, economic, intellectual and social upheaval all round the globe, causing the premature death of around one-third of the human population.  Although not the first such worldwide crisis, it is both the most recent and the only one for which plentiful records survive.  I hope this study will help inform the current debate on the consequences for human society of sudden climatic change. In 2014 the Society for Military History awarded The Global Crisis its "best book" prize , and the British Academy awarded the book one of its "medals" that recognize "a landmark academic achievement in any of the disciplines supported by the Academy, which has transformed understanding of a particular subject or field of study". A Polish translation has been completed.
In 2014 Yale University Press published Imprudent King: a new life of Philip II, which includes much previously unknown material from a cache of 3,000 documents written by or to Philip that I recently found and cataloged at the Hispanic Society of America. 
My latest book is Emperor: A new life of Charles V (New Haven and London: Yale University Press, 2019). Dutch, German and Spanish translations have appeared, with  Chinese, Estonian, Italian, Polish and Turkish translations in preparation. It is also available as an audiobook, and it won the 2020 Ohio Academy of History award for "the outstanding publication of the previous year."
In 2012 the Royal Dutch Academy of Sciences awarded me the biennial Heineken Prize for History, open to scholars in any field and any period from any country. Here is the "video profile," shown when I received the prize in Amsterdam. 
In 2021 the OSU Board of Trustees awarded me the Sullivant Medal, awarded once every five years "to a member of the university whose achievements have been extraordinary and distinctive."  I am the twentieth recipient, and the third historian, to receive this award since its creation in 1924.
Articles
I have published over 100 articles and book chapters, as well as some Op-Ed pieces, including:
In Conversation
Fiona Hill of the Brookings Institution joins Andreas Dorpalen Professor of History Geoffrey Parker for a small-group conversation at the Mershon Center. Parker, who mentored Hill during her undergraduate years at St Andrews University, invited her to reflect on her personal history as a first-generation college student from County Durham - the coal country of northern England.
Lectures
I have delivered over 300 invited lectures and conference papers around the world, some of which
were recorded:
"1588: the Spanish Armada Still Loses," Clio Society, Ohio State University, May 8, 2023, Columbus, Ohio.

"Is The Military Revolution dead yet?" Keynote Address at the 86th Annual Meeting of the Society for Military History, "Soldiers and Civilians in the Cauldron of War," May 9-12, 2019, Columbus, Ohio.

"El emperador Carlos V y yo: desde los documentos hasta los dedos," a Keynote Lecture delivered to the Congreso Internacional Sobre la Casa de Austria, 23 Feb., 2019.

Princeton, 6 May 2016 "Global Crisis: A 17th-Century Perspective"

Talk at the Chabraja Center, Northwestern University, 3 December 2015, "The Knickerbocker Rule"

Talk at the Chabraja Center, Northwestern University, 3 December 2015, "Archival discoveries"

Talk at the Chabraja Center, Northwestern University, 3 December 2015, "How I became a historian"

Talk at the Chabraja Center, Northwestern University, 3 December 2015, "Why we must study History"

Talk at the Institut Guerre et Paix, Sorbonne, Paris, 27 June 2014 "The military revolution"

Podcast of the Katz Lecture given at Simpson Center for the Humanities at the University of Washington, Seattle, in 2006:
"Climate and Catastrophe: The World Crisis of the 17th Century"
1997 Lansdowne Lecture, "Philip II and Information Technology" 
Video of a lecture given at Indiana University - Purdue University Fort Wayne in 1992:
"After Columbus: Spain's Struggle for Atlantic Hegemony after 1492"

Audio of a lecture given at the University of British Columbia, Vancouver, in 1980.
Parker, Geoffrey. "Conscience and power: Philip II of Spain, history and legend." 
Commencement Address
"The Greatest gift an education gives is perspective", Ohio State University Commencement Address for Winter 2003 - Transcript (pdf)


Interviews
Some of my newspaper, television, radio and podcast interviews in North America and Europe include:
Podcast interview with Charles Coutinho on the New Books Network, Sept. 27, 2019.
Podcast Interview with Mark Klobas of the New Books Network, Aug. 23, 2019
Interview with Rolf Strøm-Olsen at Hay Festival, Segovia, in 2010
Interview on the Spanish TV program "Para todos la dos" in 2011 
Interview with Dutch Public Broadcasting program "Hoe? Zo!" in 2012
"Video profile" shown when I received the Heineken history prize in Amsterdam in 2012
"Video: An Interview with Geoffrey Parker", HistoryToday.com, January 23, 2015
Interview with Geoffrey Parker at the Instituto de Cervantes, London, on 17 March 2015
"Climate Change and Crisis: Lessons from the Past", Dr. Dagomar Degroot (Georgetown University) interviews Dr. Geoffrey Parker about human responses to climatic cooling in the seventeeth century. Climate History Podcast of the climatehistorynetwork.com and historicalclimatology.com, July 23, 2015.

 
"Dummheit macht aus Krisen Katastrophen" ("Stupidity Creates Disasters"), an interview by the German newspaper, Frankfurter Rundschau, (in German) April 2016.
"Looking Back at World War I," on All Sides with Ann Fisher, October 27, 2016.
"Interview with Geoffrey Parker on Charles V," on The History of Spain podcast, May 25, 2019.
Debates
Debate About Felipe II (in Spanish), 1998, Moderator:  José Luis Balbín, Participants:  I.A.A. Thompson (Universidad de Keele), Magdalena de Pazzis Pi Corrales (Univ. Complutense), Luis Miguel Enciso Recio (Univ. Complutense) and Geoffrey Parker (Ohio State University).

Media Links
Mershon Projects
People Filters: