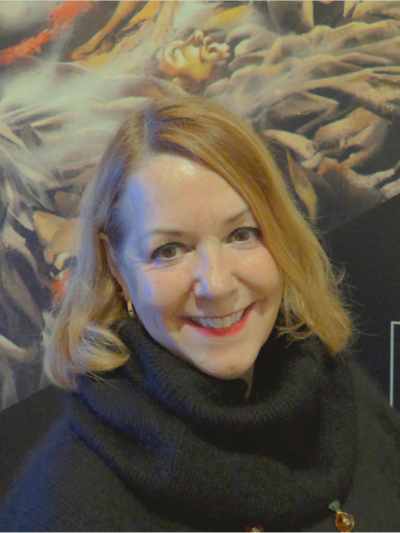 Stephanie J. Smith
Professor
340 Dulles Hall
230 Annie & John Glenn Avenue
Columbus, OH
43210
Areas of Expertise
Latin American History
Human Conflict, Peace, and Diplomacy
Power, Culture, and the State
Race, Ethnicity, and Nation
Stephanie J. Smith is a Professor of History with a concentration on Mexico and Latin America. She joined the Department in 2003 after earning her Ph.D. in History from the State University of New York at Stony Brook in August 2002. Professor Smith received an American Association of University Women Dissertation Fellowship during the 2001-2002 academic year, and a Fulbright Dissertation Research Abroad Grant to Mexico (Fulbright-Garcia Robles) supported the research for her dissertation in Mexico during 1999-2000. 
Recently she also has been awarded a number of research grants to support her second book, The Power and Politics of Art in Postrevolutionary Mexico (University of North Carolina Press, 2017). This work analyzes the complex relationship between radical artists, including Diego Rivera, David Alfaro Siqueiros, and Frida Kahlo with Mexico's postrevolutionary state. Her first book, Gender and the Mexican Revolution: Yucatán Women and the Realities of Patriarchy, (University of North Carolina Press, 2009) explores the complicated process of women's involvement during the Mexican Revolution. 
Currently Prof. Smith is working on a new book, Through Frida's Eyes: Frida Kahlo and the Creative Women Who Radicalized Mexico, under an advance contract from UNC Press.
Professor Smith's articles and chapters in edited volumes include:
"The Painter and the Communist: Gender, Culture, and the Fleeting Marriage of Ione Robinson and Joseph Freeman, 1929-1932," The Journal of Women's History 31.3 (Autumn 2019): 12-13;
"Mexican Culture, 1920-1945," co-authored with Helen Delpar. In The Oxford Encyclopedia of Mexican History and Culture, pp. 315-333, vol. 2. Edited by William Beezley. New York and Oxford: Oxford University Press, 2019;
"Removing the Yoke of Tradition: Yucatan's Revolutionary Women, Revolutionary Reforms." In Peripheral Visions: Politics, Society, and the Challenges of Modernity in Yucatan, Edited by Gilbert M. Joseph, Edward Moseley, Edward Terry, Ben Fallaw. Tuscaloosa: The University of Alabama Press, 2010;
"Si el amor esclaviza…maldito sea el amor!" El divorcio y la formación del Estado revolucionario en Yucatán." In Género, poder y política en el México posrevolucionario. Edited by Gabriela Cano, Mary Kay Vaughan, Jocelyn Olcott. México, D.F.: Fondo de Cultura Económica, 2009;
"Salvador Alvarado of Yucatán: Revolutionary Reforms, Revolutionary Women." In Governors of the Mexican Revolution: Portraits of Courage, Corruption, and Conflict. Edited by William H. Beezley and Jurgen Buchenau. Lanham, Maryland: Rowman and Littlefield, 2009;
"Educating Mothers of the Nation: The Project of Revolutionary Education in Yucatán," in The Women's Revolution in Mexico, 1910-1953. Edited by Stephanie Mitchell and Patience A. Schell. Lanham, Maryland: Rowman and Littlefield, 2009;
'"If Love Enslaves...Love Be Damned!,' Divorce and Revolutionary State Formation in Yucatán, Mexico," in Sex in Revolution: Gender, Politics, and Power in Modern Mexico. Edited by Jocelyn Olcott, Mary Kay Vaughan, Gabriela Cano. Durham: Duke University Press, 2006.
Professor Smith has presented papers at conferences in Mexico and the United States, including the Conference on Latin American History (CLAH), the American Historical Association (AHA), the Latin American Studies Association (LASA), the Berkshire Conference on the History of Women, and the Conference of Mexican, United States, and Canadian Historians. She also has given various invited lectures, including at Amherst College, Yale University, Brigham Young University, St. John's University, Harvard University's David Rockefeller Center for Latin American Studies, Wellesley College, and others.
In 2020 Professor Smith received the Paul Brown Excellence in Teaching Award from the Ohio State University's College of Arts and Sciences, and in 2009 she was awarded the Clio Award, Phi Alpha Theta's teaching award to recognize an outstanding professor within the history department at Ohio State. Prof. Smith currently teaches courses on the History of Mexico, Revolutions and Social Movements in Modern Latin America, The History of Latin American Through Film, senior seminars on Latin American History, and graduate courses on Mexico and Latin America.
People Filters: