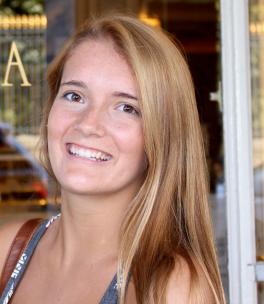 How did you become interested in history as an academic discipline? What made you want to major in History?
I had a history teacher once who said that it was his job to make us "jury-ready citizens." From a young age, I hated feeling like I didn't know what adults at the dinner table were talking about or what was going on in the news. For me, historical context was always essential to understanding current events and the world around me - how could you separate the two? As an academic discipline, I was especially inclined to the way that history,  far from static, is a constant revisionist process of old narratives as we endeavor to incorporate more perspectives, uncover entrenched biases, and add new interdisciplinary lenses to the study.
Initially, I chose to major in history because I wanted to pursue teaching. When I decided to focus elsewhere, I knew I wanted a career that relied on critical, analytical, longitudinal thinking, one where I could look at trends and information from a unique perspective and not merely be satisfied with the obvious or apparent answer. I was halfway through my major and decided that my skill-set was still very much relevant to my reoriented ambitions. 
Tell us about your experience taking courses in the Ohio State Department of History. Do you have any particularly vivid memories from your time as an undergraduate?
I felt that my professors were always framing their classes around present day themes, from isolationism and xenophobia to regime change, from the evolution of norms to technological innovation. I continue to be struck by parallels that have persisted since antiquity as well as radical societal shifts since then. Though I panicked at first, I vividly remember the first time I was told to produce an articulated, well-researched paper on a topic of my own choosing. The lack of an assigned focus and the seemingly endless options were at first overwhelming, but the exercise in focusing my curiosity and questions was incredibly valuable for not only the rest of my academic career but my professional one as well. I also have fond memories of excavating the 13th century Blackfriary monastery in Trim, Ireland under the tutelage of our ever-patient, study abroad matriarch, Dr. Beach. "Digging in the trenches" and exploring the entire Emerald Isle brought me some incredible friends and mentors.
How did your experience as a history major help prepare you for the future, both professionally and personally?
My writing skills are one of my greatest assets in my professional career. Writing, particularly in a clear and concise yet effective fashion, is not easily taught, and history majors hone this skill for the entirety of their college careers. I am also uniquely able to analyze a problem or question from infinitely more angles and synthesize large amounts of information, mostly unrelated, sources, and perspectives because of my degree. The history discipline is inherently driven by curiosity, which is vital to innovation in any field. I am always thinking "How would someone else approach this?" and "What has already been tried?" to avoid oversimplifying a task or missing a crucial component of the solution.
In my personal life, being a history major has taught me incredible tenacity. As I suspect many others out there have endured, I was constantly peppered with questions about how on earth I was going to make a living, let alone use my degree. Since there is less of a clear-cut path for a history major, I knew that I was going to have to really market myself, my degree, and my skills and work tirelessly to gain well-rounded experience in several industries to be seen as versatile and employable.
I actually got my first "real job" from an initial rejection. I swallowed my pride and kept in touch with those who had interviewed me, asking for advice as I continued to pursue employment. When they were hiring again a few months later, they reached out to me to apply.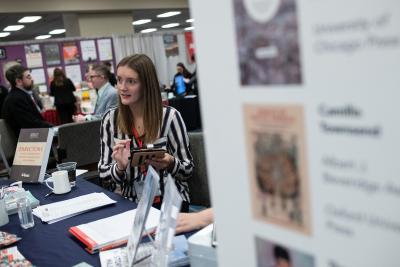 What advice would you give to current or prospective history majors who are interested in careers in writing and editing, particularly in an advocacy organization like the AHA?
Columbus is a fast-growing city with so many opportunities. Start early on in your four years! Interning or working part time at a non-profit, digital or print (or both!) publication, or a startup is a great way to get multifaceted experience because the staff are often small and different departments work very closely together. Look within your university as well. Almost all of the colleges will have their own magazines, blogs, and social media accounts, and then there are the larger university offices of advancement and student life. In the modern era of social media and the internet, starting your own blog or podcast series is also easy. It can be about history or completely unrelated, but having a unique body of work to show potential employers will make you stand out. 
I think that this is especially important if you may not want to go into academia. Study history, hone your unique skill-set, but pick up work experience or even coursework in other fields.