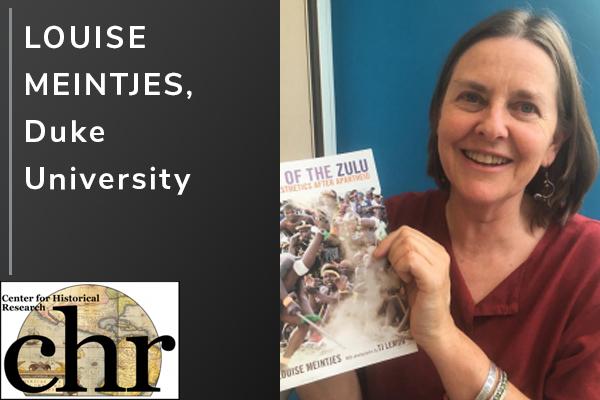 February 13, 2024
4:00PM - 5:30PM
Add to Calendar
2024-02-13 16:00:00
2024-02-13 17:30:00
"The Eloquence of Anger: Zulu ngoma men's song and dance," Louise Meintjes
Registration For Zulu ngoma performers, responsible manhood entails crafting anger into eloquence. In so doing, performers blur the lines between pain and styling, violence and its performance. When song and dance are limned by violence, how might we think about histories of anger acting upon the world through art? Living with the legacies of apartheid, ngoma performers' anger ("ulaka") is an expressive resource and a necessary though ambiguous response to injustice. About Louise Meintjes Louise Meintjes is the Marcellor Lotti Professor of Music and Cultural Anthropology at Duke University. Some of her recent publications include: Dust of the Zulu: Ngoma Aesthetics after Apartheid (Duke University Press, 2017) and Sound of Africa!: Making Music Zulu in the South African Studio (Duke University Press, 2003). Co-sponsor: Department of Anthropology and Musicology in the School of Music  
Location: TBA
OSU ASC Drupal 8
ascwebservices@osu.edu
America/New_York
public
Date Range
Add to Calendar
2024-02-13 16:00:00
2024-02-13 17:30:00
"The Eloquence of Anger: Zulu ngoma men's song and dance," Louise Meintjes
Registration For Zulu ngoma performers, responsible manhood entails crafting anger into eloquence. In so doing, performers blur the lines between pain and styling, violence and its performance. When song and dance are limned by violence, how might we think about histories of anger acting upon the world through art? Living with the legacies of apartheid, ngoma performers' anger ("ulaka") is an expressive resource and a necessary though ambiguous response to injustice. About Louise Meintjes Louise Meintjes is the Marcellor Lotti Professor of Music and Cultural Anthropology at Duke University. Some of her recent publications include: Dust of the Zulu: Ngoma Aesthetics after Apartheid (Duke University Press, 2017) and Sound of Africa!: Making Music Zulu in the South African Studio (Duke University Press, 2003). Co-sponsor: Department of Anthropology and Musicology in the School of Music  
Location: TBA
Department of History
history@osu.edu
America/New_York
public
For Zulu ngoma performers, responsible manhood entails crafting anger into eloquence. In so doing, performers blur the lines between pain and styling, violence and its performance. When song and dance are limned by violence, how might we think about histories of anger acting upon the world through art? Living with the legacies of apartheid, ngoma performers' anger ("ulaka") is an expressive resource and a necessary though ambiguous response to injustice.
About Louise Meintjes
Louise Meintjes is the Marcellor Lotti Professor of Music and Cultural Anthropology at Duke University. Some of her recent publications include: Dust of the Zulu: Ngoma Aesthetics after Apartheid (Duke University Press, 2017) and Sound of Africa!: Making Music Zulu in the South African Studio (Duke University Press, 2003).
Co-sponsor: Department of Anthropology and Musicology in the School of Music
Events Filters:
---