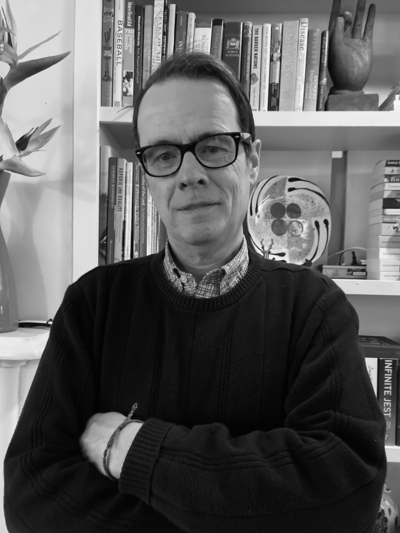 Greg Anderson
Professor
271 Dulles Hall
230 Annie and John Glenn Avenue
Columbus, OH
43210
Areas of Expertise
Ancient History
Theory and Practice of History
Critical Theory
Originally from the UK, Professor Anderson holds degrees from Newcastle University, University College, London, and Yale University. He is a specialist in ancient Greek history, historical thought, and critical theory.
In his research and writing, Prof. Anderson is committed to a radical historical practice, one that takes seriously the real worlds experienced by non-modern peoples, which are quite unlike our own. Humans have always lived in a "pluriverse" of many different worlds, not in a universe of just one.
Prof. Anderson's first book, The Athenian Experiment (University of Michigan Press, 2003), reconsidered the "birth of democracy" in ancient Athens, highlighting the profound differences between ancient experience and modern understandings of this landmark event. In similar vein, other publications have questioned the standard use of modern categories like "democracy," "state," and "tyranny" to characterize phenomena in Greek experience.
His second book, The Realness of Things Past (Oxford University Press, 2018), presents a fully elaborated case for a new "many worlds" paradigm of historical practice, using classical Athens as a case study. It shows how conventional modern analytical tools always end up re-engineering the essential fabrics of non-modern worlds, filling those worlds with uniquely modern phenomena, like orders of nature and culture, public and private realms, states, economies, religions, and natural individuals. To produce accounts of the past that are more ethical, meaningful, and philosophically robust, it argues, we need to take an "ontological turn" in our practice. As far as possible, we need to restore to the peoples we study the power to determine the truths and realities that they daily enacted in their life-sustaining practices.
How would the possibility of life in a pluriverse of different worlds change conventional thinking about the larger human story? This is the broader question addressed by Prof. Anderson's current book-in-progress, which is provisionally entitled Across the Pluriverse: Sustainable Worlds of the Past, Present, and Future. The work is written for a non-specialist audience. It makes the case that humans have always lived in a pluriverse of many different worlds, not in a universe of just one. It then goes on to explore how this proposition transforms our thinking about life in the past, present, and future. Hopefully, the book will help readers to see the historically anomalous world of capitalist modernity in a new, more critical light, while urging them to reflect on the possibility of other more ecologically responsible worlds, both those already lived in the past and those yet to be lived in the future.
Prof. Anderson has co-edited the volume State Formations: Global Histories and Cultures of Statehood (Cambridge University Press, 2018), which assembles over twenty papers on the "state" in history and theory. With Professor Ying Zhang, he also founded and runs Ohio State's Premodernist Group, which brings together specialists in non-modern worlds from across campus to consider issues of common concern. Prof. Anderson has delivered well over fifty professional papers in venues across North America and Europe. He has won eight teaching awards, including the Alumni Award for Distinguished Teaching, Ohio State's highest honor for pedagogy. He welcomes emails from anyone who shares his interests.
People Filters: