Yi Guo
Internship Location: WOSU, Columbus Neighborhoods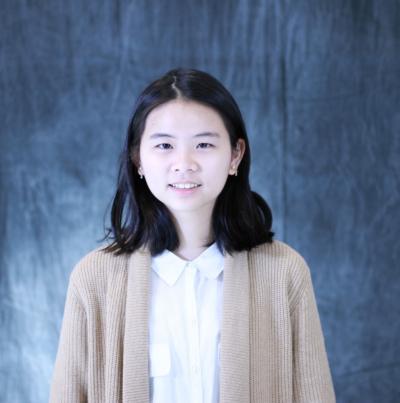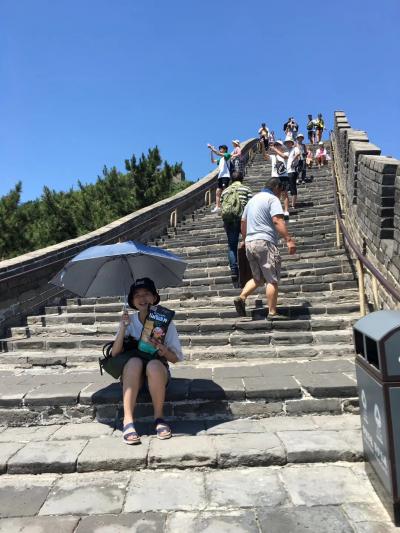 (Photos: (Top) Yi Guo; (Bottom) Yi Guo at the Great Wall)
My internship was at WOSU Public Media, working on the Columbus Neighborhoods series. I was a research assistant responsible for researching, interviewing, and writing about notable women from Columbus's past.  The most valuable part of the internship was conducting interviews. I interviewed many people whom I have never met. Besides, it was my first time to schedule interview appointments with strangers and to have to speak with each for a long time. Through the interviews, I gained lots of additional knowledge that could not be found online.  The advice that I would give to a student considering an internship is to have a clear idea about personal goals. What do you want to get from the internship and how you want to achieve such goals? Also, make sure that the internship is a good match for you. Someone might want to strengthen historical knowledge, while others might want to pick up a variety of skills useful for different careers. Different personal goals and abilities will result in different choices.
---
Drew Ahlers
Internship Location: Capitol Square Review and Advisory Board of the Ohio Statehouse
Supervisor: Dayna Jalkanen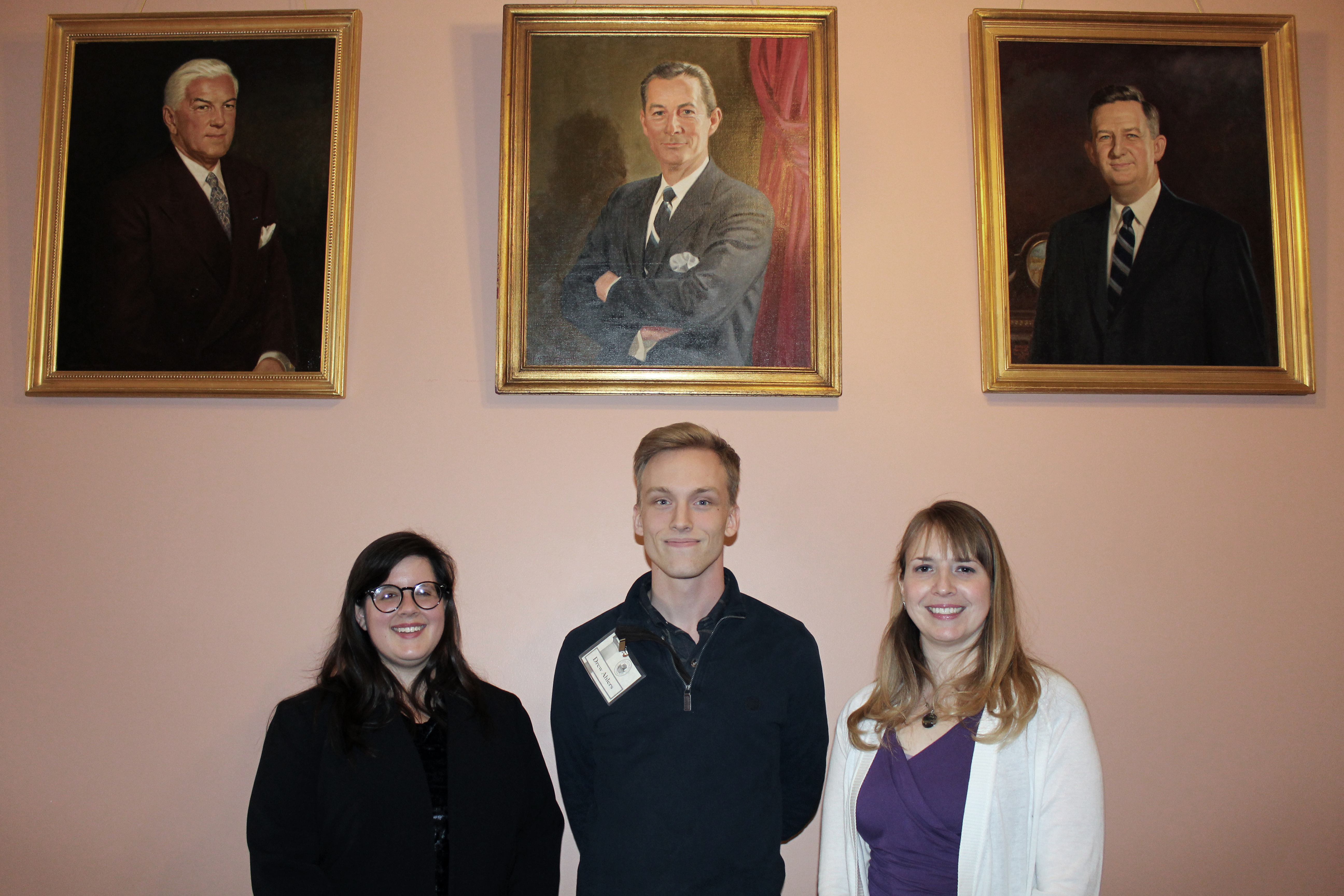 (L to R) Emily Volkman, Drew Ahlers and Dayna Jalkanen
I am working at the Ohio Statehouse downtown. This internship entails conducting tours for the public and scheduled tour groups, and doing historical research on the lives of Ohio Governors from the 1920s on. It is cool to see how the Governors dealt with different historical issues on the state level such as the Great Depression, World War, II, and the Vietnam War. I am learning interesting tidbits also on the role Ohio played in some federal level things like many of the Presidential races. The tours are by far my favorite part of the internship. I get to educate the public on the rich history of the Ohio Statehouse while also getting to walk around one of the oldest Statehouses still in use.
---
Emily Brokamp
Internship Location: University Libraries, Lawrence and Lee Theatre Research Institute, Thompson Library
Supervisor: Dr. Beth Kattelman, Associate Curator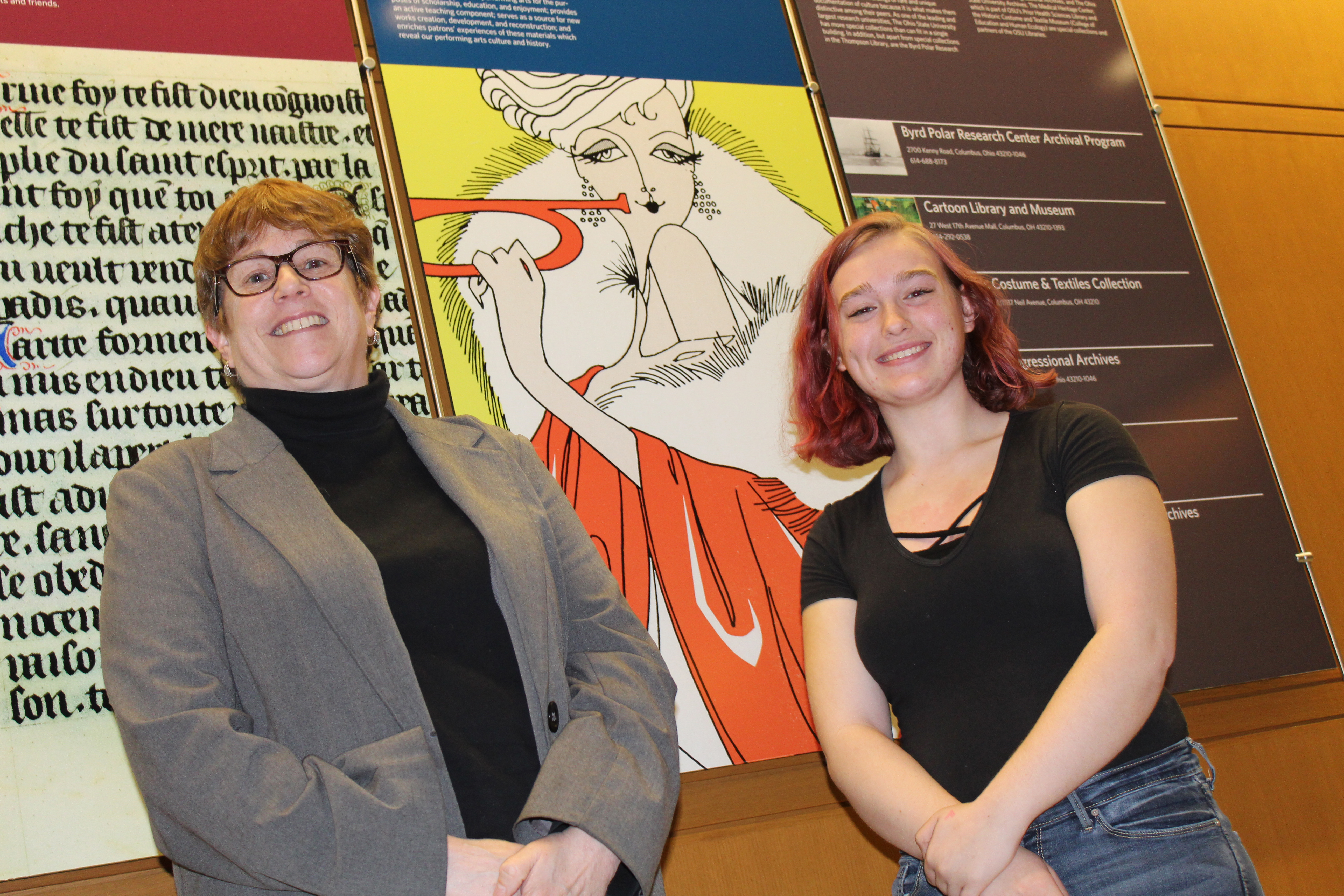 Dr. Beth Kattelman (L) and Emily Brokamp (R)
I am working as the Acquisitions Intern for the Theatre Research Institute. It is my job to assess various artifacts in the Theatre Research Institute's archives, conduct research on them, and post a brief description on the institute's blog. I work in the Thompson Library Special Collections Research Room twice a week in order to conduct research on these materials. My supervisor usually gives me the freedom to choose what artifacts I work with based on what I think students and faculty will be interested in. This freedom allows me to employ my own personal historical interests into my work as well as practice and refine my historical research skills. Learn more about Emily here and her project at Discover the artiFACTS!.
---
Isabella Burton
Internship Location: Historic Costume and Textiles Collection
Supervisor: Gayle Strege, Curator; Marlise Schoeny, Assistant Curator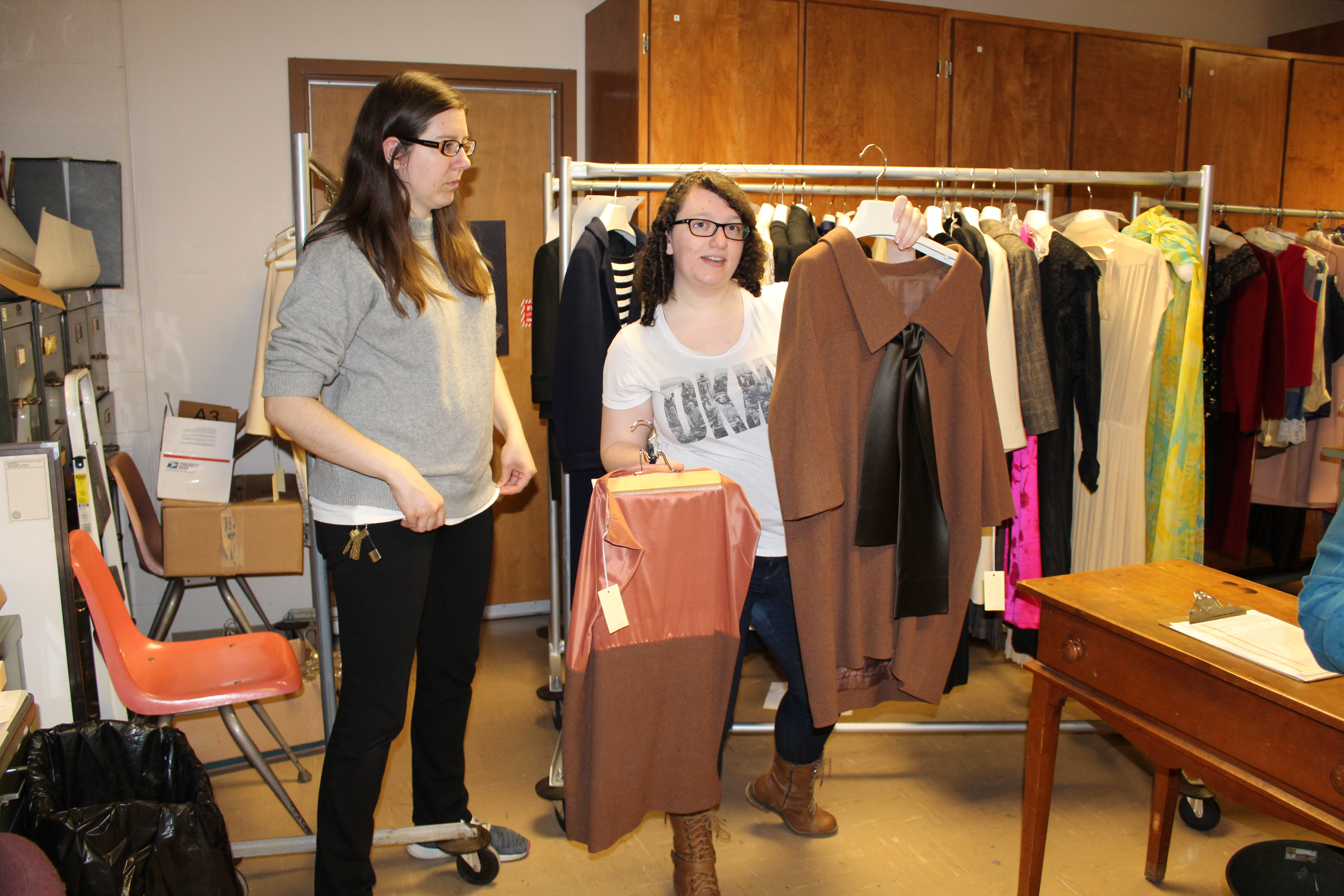 Marlise Schoeny (L) and Isabella Burton (R) describe some of
the garments in a collection.
One of the first skills I am learning in this internship is the PastPerfect system. Utilized by many museums, PastPerfect is an online database that categorizes artifacts based on accession number. While the PastPerfect database isn't perfect, neither is the accession numbering system the artifacts are labeled under within the museum's database. By learning to use PastPerfect I will be better prepared if I ever decide to partake in another internship or even when looking for a career in curatorial work. Having this skill on my resume will mean one less skill I will have to be trained in. Learn about Isabella's project here.
---
Sarah Charlton
Internship Location: WOSU
Supervisor: Marcelita Haskins, Chief Content Director, Learning and Public Engagement; Diana Bergman, Television Producer; Mary Rathke, Senior TV Producer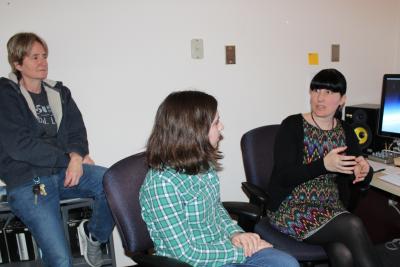 (L to R) Mary Rathke, Sarah Charlton and Diana Bergemann
Throughout the semester, I have been talking to my grandparents a lot about what my internship entails because all four of them are avid PBS fans, and WOSU is a PBS local channel. When I called one of my grandmas this week to update her on my research, I explained that recently I have primarily been researching women in the Civil War and conducted an interview this week on the subject. Because my grandmother serves on her Historical Society's board of directors, she was able to tell me about some of the research she has seen over the years regarding women in the Civil War. The conversation became even more interesting when she said that she had recently met a Civil War re-enactor who played the part of a Civil War nurse that I have come across multiple times in my research. My grandma was a high school social studies teacher for thirty years, so she and I have always connected over our shared passion for history. All in all, I loved updating her on my internship because she always seems very interested in what I am researching.
---
James Coyle
Internship Location: Defense Prisoner of War/Missing in Action Accounting Agency (DPAA) at the Ohio State University
Supervisor: Dr. Zachary M. Matusheski, Historian in Residence, DPAA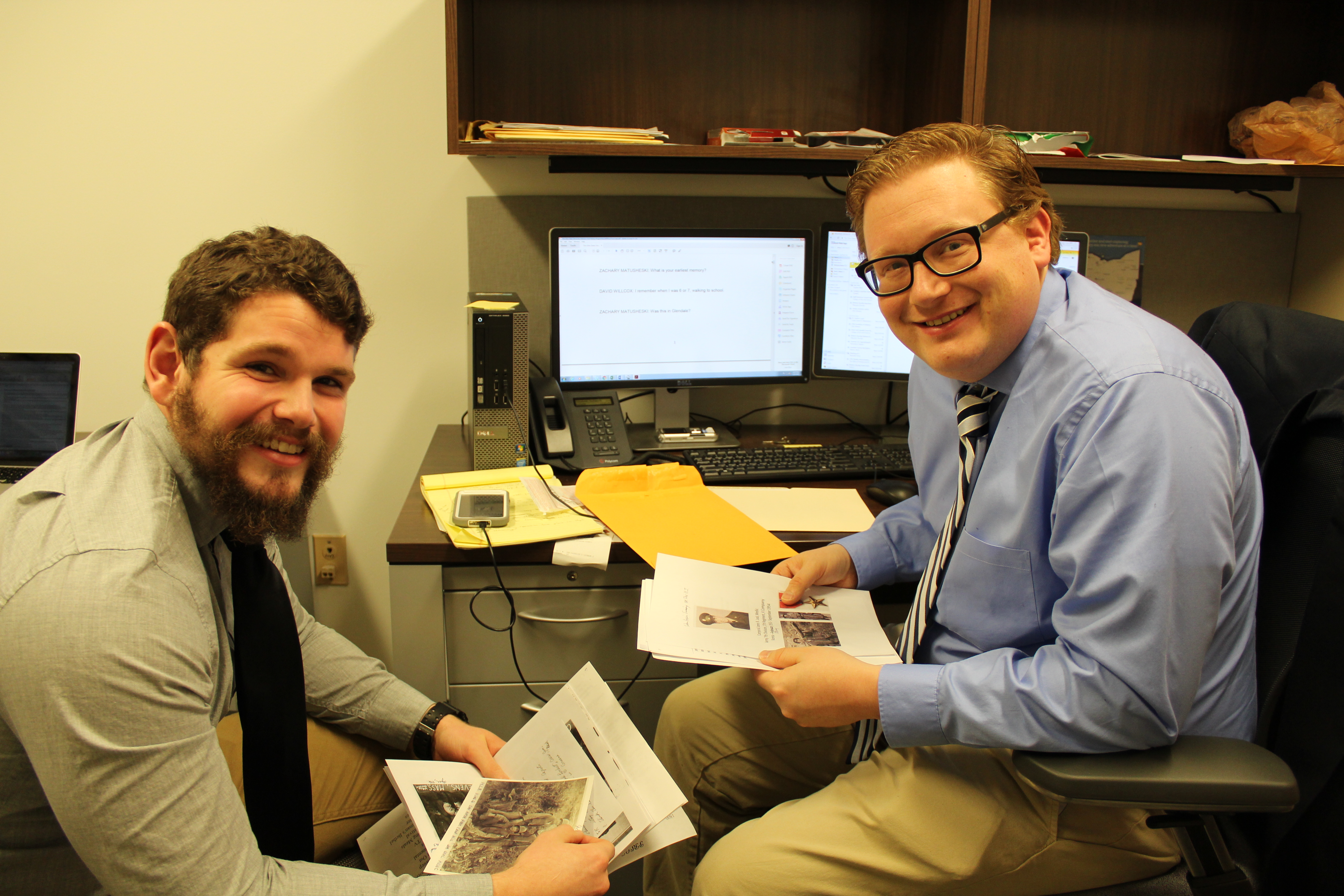 (L to R) James Coyle and Dr. Zachary Matusheski describe some of the many
photos and documents that are part of the intern project.
I work for the Defense Prisoner of War/Missing in Action Accounting Agency. What I do is conduct oral histories with veterans of past American wars, focusing primarily on the Korean War. The goal of these oral histories is not only to collect veterans' testimonies for the historical record, but also to potentially locate remain sets of servicemen who went MIA during combat. If these oral histories actually produce a location with a remain set, the DPAA can bring that body home to their family, giving the family closure and the serviceman the honors they deserve. Working with veterans of the conflicts that I have studied in the past or am currently studying is incredibly beneficial for me. I can ask them questions about specific operations or their views about a controversial topic that occurred during their war.
---
Allisa Diekman
Internship Location: Medical Heritage Center, Health Sciences Library
Supervisor: Kristin Rodgers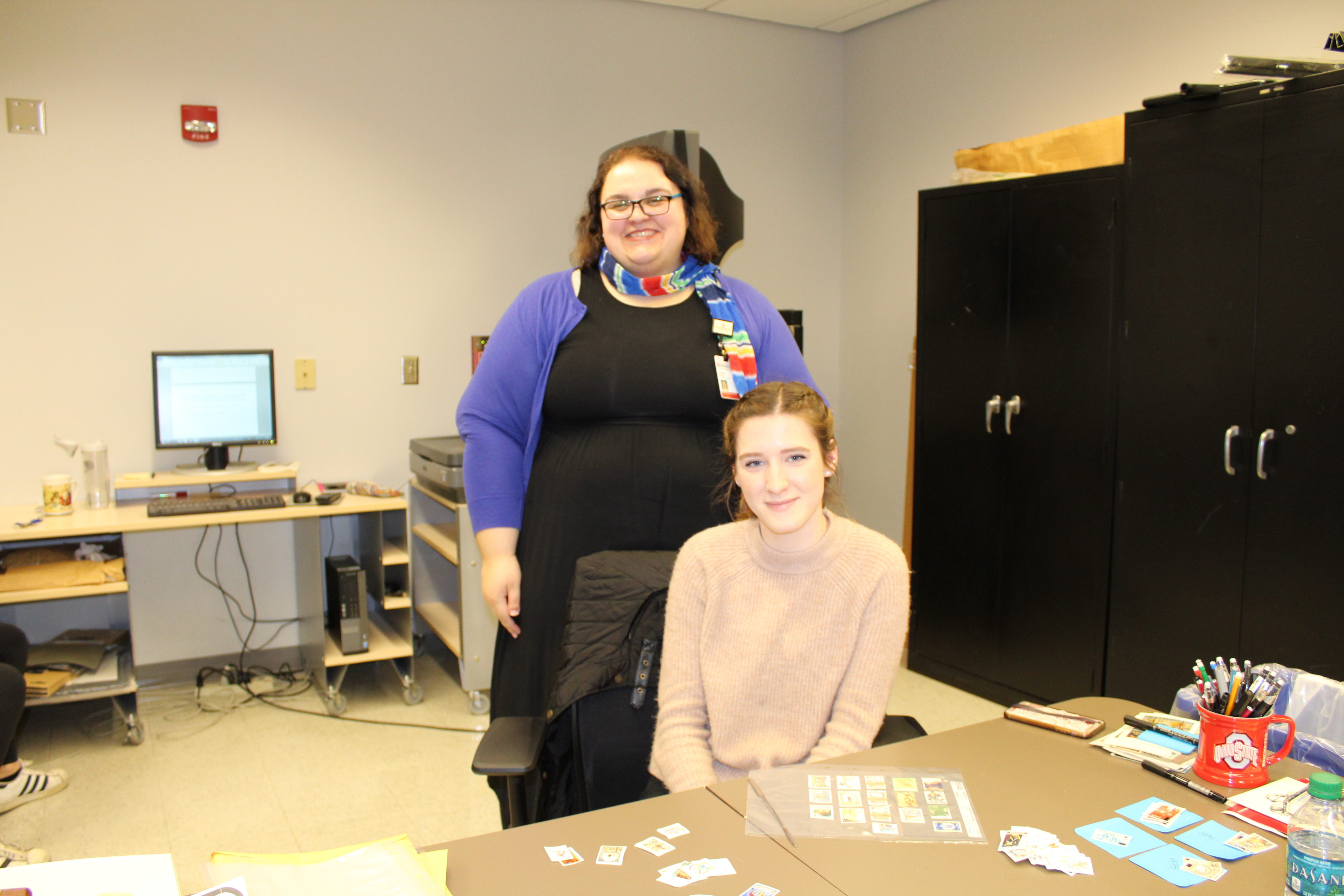 (L to R) Kristin Rodgers and Allisa Diekman
I am doing an internship at the Medical Heritage Center in the Health Sciences Library on campus. The MHC houses archives, collections, and books that relate to medicine and healthcare in Central Ohio. I mostly get to work with transcribing oral histories of medical professionals as well as with a medical-related stamp collection. With the stamp collection, I am working on putting it into storage that can keep it well-preserved and easily accessible. This work is important because it helps preserve and promote the history and legacy of healthcare in the area. I have also been able to learn about new software with my internship and how to write a finding aid. The finding aids give information about the collection.
---
Sara Fuetter
Internship Location: University Libraries, Special Collections Description and Access, Thompson Library
Supervisor: Cate Putirskis, Special Collections Processing Manager
(L to R) Cate Putirskis and Sara Fuetter in the Special Collections Area
This semester I do digital archiving at the SCDA in Thompson Library. In my archival work, I type up finding aids that describe the content of the collections in a way that's specific to the individual who made them, but also places the collection in the general historical setting. For example, my first collection was the correspondence of a serviceman in the Pacific theatre in World War II, so the finding aid I made talked both about the specific contents of the letters and also about how the letters related in general to the war being fought in the Pacific. I also type up a short biography of whoever created the collection, so if a researcher is interested in a certain type of person in a certain setting, they can also decide whether they want to use this person's collections. After everything is typed up, it's then published in a database anyone using OSU's libraries can access.
---
Emily Glassmeyer
Internship Location: Historic Costume and Textiles Collection
Supervisor: Gayle Strege, Curator; Marlise Schoeny, Assistant Curator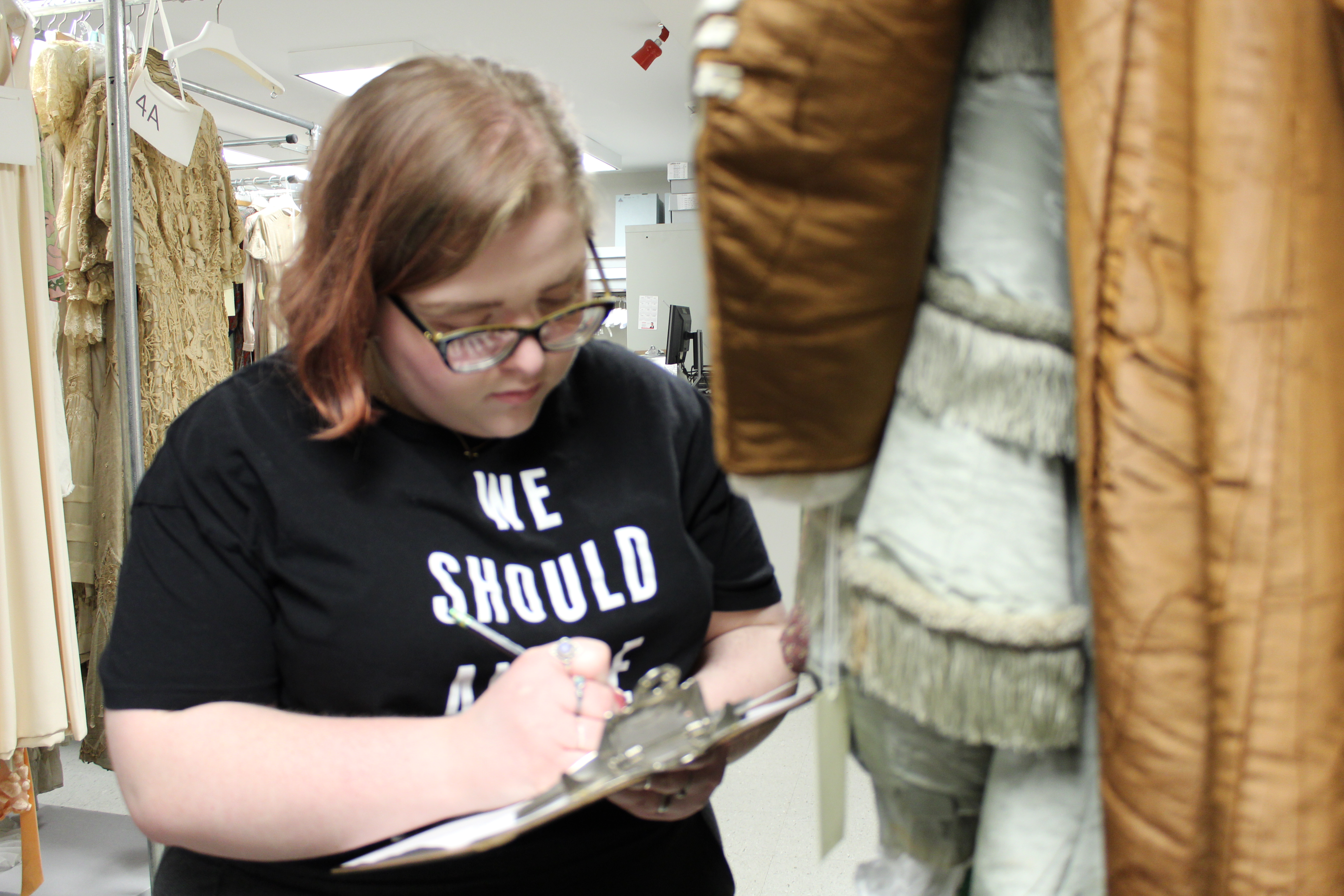 Emily Glassmeyer at work in the Historic Costume and Textiles Collection
I am interning at the Historic Costume and Textiles Collection on campus. The Collection has roughly four different storage units in Campbell Hall, as well as a gallery space -- which is currently featuring an exhibit on Dior in Ohio. In the collection, there are articles from roughly 1750 to the present, from all over the world. I work a lot with the online database, putting objects away after they've been used for classes, and working on an online exhibit centering around Columbus dressmakers. Through this, I get to help make the artifacts more accessible to researchers, professors and students, while I work to uncover some details about the history of fashion in Columbus. As someone who has an interest in social and women's history, I find that looking at clothes can play an essential part in my analysis of how women actually lived. Read about the project Emily worked on here.
---
Nikki Henry
Internship Location: University Libraries, Area Studies Department, Thompson Library
Supervisor: Dr. Pamela Espinosa de los Monteros, Assistant Professor, Latin American Studies Librarian, University Libraries Area Studies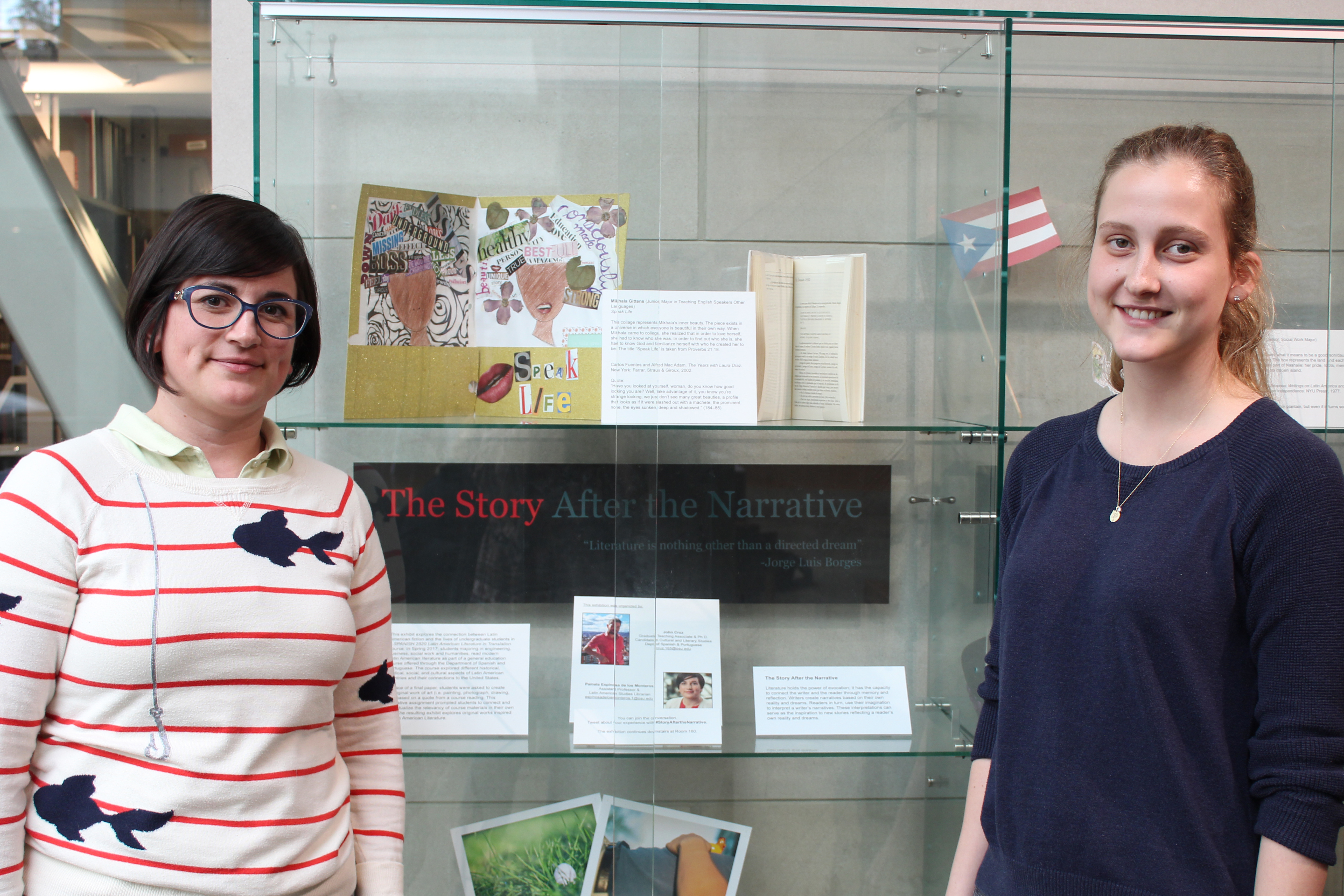 Dr. Pamela Espinosa de los Monteros (L) and Nikki Henry (R) at Thompson Library
I am working with the Area Studies Librarians in Thompson Library to curate an exhibit on "Creative Responses to the Cold War." Through this internship, I am learning how to research and collect archives for gallery use, write bibliographies to be displayed in the finished gallery, and conduct professional interviews concerning the curation of the exhibit and where to find items within the collections that may prove to be useful. Through this exhibit we hope to promote global/local thinking about our connection to the rest of the world. We expect to use the University's archives in a way that reflects OSU's link to the globe while also teaching audiences about how people around the world creatively reacted to Cold War events. My undergraduate curriculum has helped me in my internship in so many ways. Through my courses, I have learned how to effectively conduct research through library resources like archive finding aids, library catalogs, and research websites affiliated with OSU. The writing skills I have gained from my history curriculum have also proved to be invaluable.
---
John Honaker
Internship Location: Ohio History Connection, Marketing and Communications
Supervisor: Shannon Thomas, Director of Marketing and Communications; Kwasi Agyemang, Marketing Manager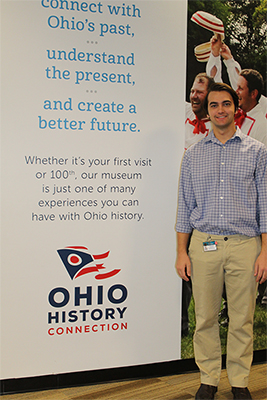 John Honaker at the Ohio History Connection
I am working at the Ohio History Connection as a general marketing intern. I work with everything, from targeted marketing campaigns to program rebranding. My work here matches up very well with what I'm learning in my history major. The main goal of the history major, it seems to me, is to create a fiercely critical thinker--somebody who can digest complex reading and then synthesize the pertinent information to create a succinct report. These things along with research skills are valued in many marketing positions across different fields. We come out of the major already in a unique position to hit the ground running when it comes to doing research on organizations and identifying the organizations that would be best served by target marketing campaigns. This is just one example of many of why history majors are successful in a business atmosphere.
---
Hannah Kramer
Internship Location: Harvey Goldberg Center for Excellence in Teaching, Department of History
Supervisor: Dr. Thomas McDow, Director; Laura Seeger, Web and eLearning Manager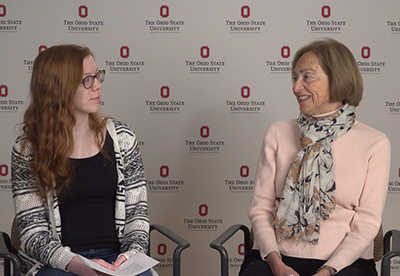 As part of her digital history exhibit, Hannah Kramer (L) interviewed
Susan Hartmann, Professor Emeritus, Department of History, for a video.
I'm interning at the Goldberg Center for Excellence in Teaching through Ohio State's History Department. The goal of the center is to create public outreach for history education. My internship focuses on the eHistory part of the center where hundreds of articles over various historical topics can be accessed. My task as an intern is to create one of these articles, or digital exhibits, over a topic of my choosing. Because of the lack of women covered on the site, I chose to examine how the role of the First Lady has changed over time and the hidden power the First Lady has over the president's administration. The digital exhibit also includes important photos and an edited video interview with a Modern American History Professor. I perform all tasks myself with my supervisor's help in video production. I'm hoping the internship will provide me a chance to get my feet wet in both research and exhibition.
---
Jameson Maddox
Internship Location: University Libraries, Lawrence and Lee Theatre Research Institute, Thompson Library
Supervisor: Dr. Beth Kattelman, Associate Curator
Beth Kattelman, Assoc. Curator, and Jameson Maddox
I'm doing historical research for the Theatre Research Institute at Thompson Library. My research revolves around a scrapbook of an individual in a traveling theatre troupe from 1917 to 1921. Using the scrapbook as a reference point, I am able to contextualize the troupe's activities from primary sources of the time. Currently, my main primary sources are newspapers, census data, and copies of the plays they performed. My time and work in my history classes have benefited me a lot because I am basically doing history. The writing skills I have learned will be beneficial at the end of the semester when I will post a paper on the research institutes blog. Learn more about Jameson's research here.
---
Daniel Maharg
Internship Location: Columbus Metropolitan Library - Local History and Genealogy
Supervisor: Angela O'Neil, Director of Local History and Genealogy; Chuck Cody, Librarian, Local History and Genealogy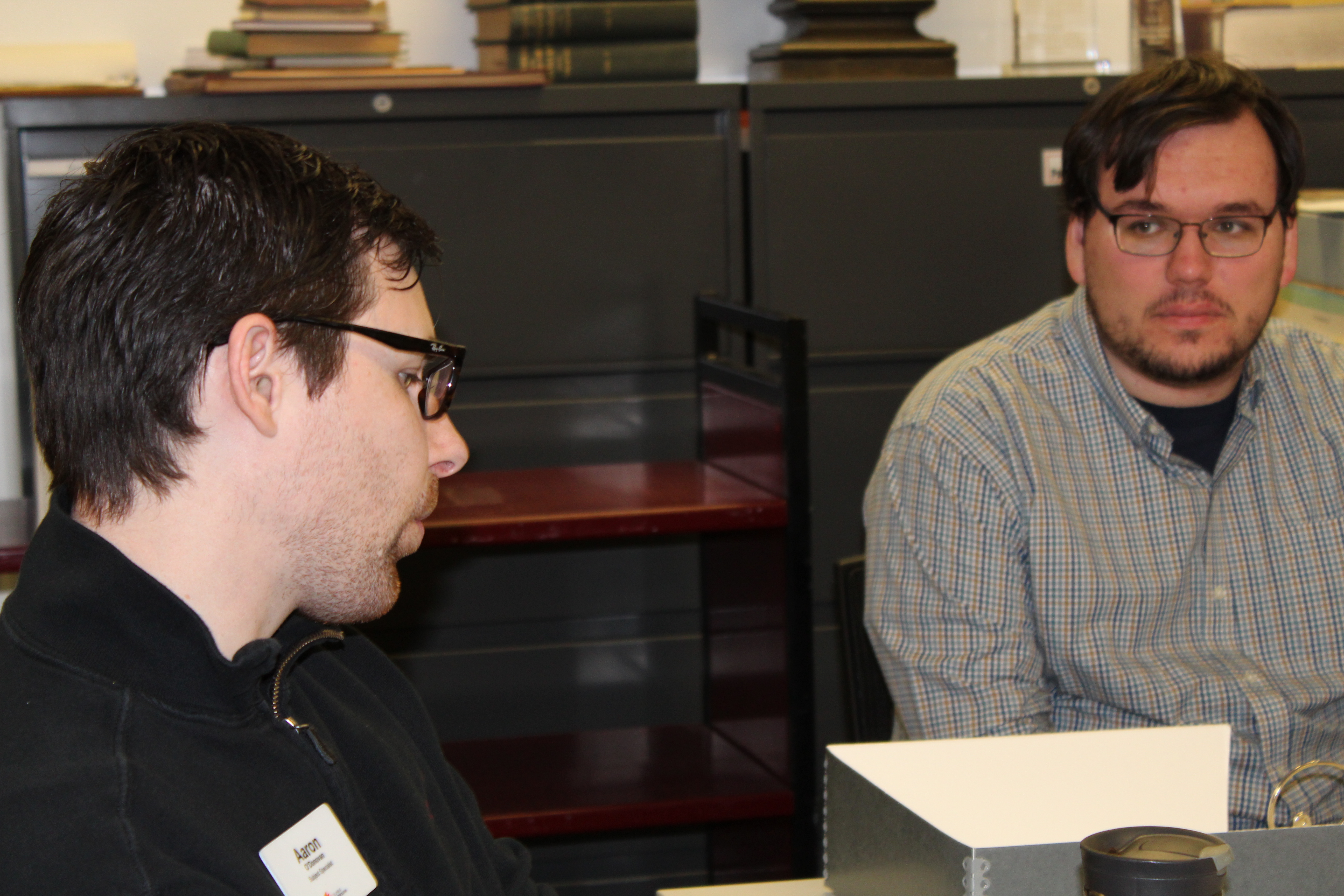 (L to R) Librarian Chuck Cody and Daniel Maharg discuss the internship project.
For my internship with the Columbus Metropolitan Library's Local History and Genealogy Department, I am examining a wide range of slides on a timescale spanning multiple decades. In terms of photographs, the slides I possess range from the early 1970s to around 2005, showing a broad scope of Columbus (from downtown construction projects to mapping out the various businesses on High Street). The maps included (most of which were created in the 1970s) cover the past (for the time period, such as the 1950s), the present (the 1970s), and the future (ranging up to 1999 for some).
---
Justin Rogers
Internship Location: Worthington Historical Society
Supervisor: Kate LaLonde, Director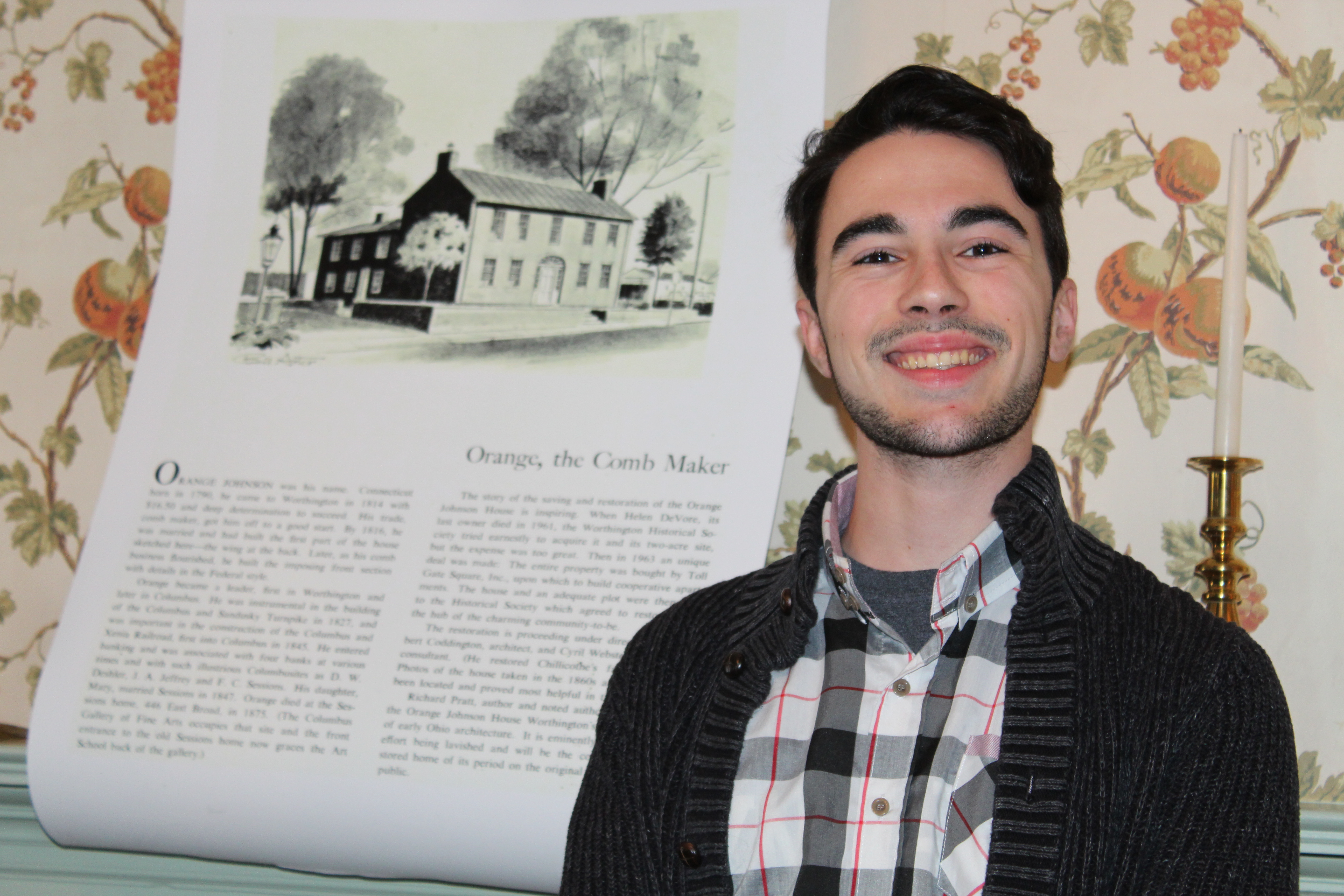 Justin Rogers at the Orange Johnson House
I am currently working on a project in Worthington for its Historical Society regarding a certain late Worthington artist, Bill Arter. As a part of the internship project, I have also been learning how the Society operates as I work on press releases, documentation and archiving of donations, and brainstorming ways to engage the Worthington community with its own history. My academic career thus far has mainly focused on European and world history, but I did learn from my introductory seminar class as well as from subsequent courses how to read critically to draw out information. These skills have proven very important in my internship. Pouring over pages and pages of information and then deciding what goes into an exhibit can be daunting, but learning how to effectively search for data as well as how to concisely and clearly communicate findings with a broad audience has benefitted me greatly in this project.
---
Wyatt Schreiner
Internship Location: Harvey Goldberg Center for Excellence in Teaching, Department of History
Supervisor: Dr. Thomas McDow, Director; Laura Seeger, Web and eLearning Manager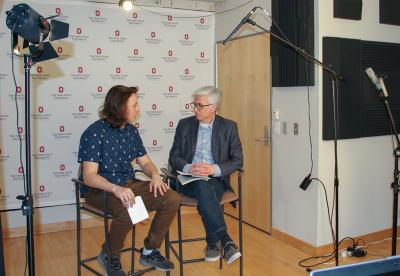 Wyatt Schreiner (L) interviewed David Staley, Interim Director of the Humanities
Institute and Professor of History (R), for a video to be included in his
digital history project.
Throughout my internship, the number one thing on my mind has been how can I dig deeper? There is so much information on the internet and in books about biomimicry, the topic of my project, that I want to make sure I get the most fascinating and informational examples to put in my digital project. Ironically, the hardest part about the research is actually finding an in depth history of biomimicry. There are thousands upon thousands of articles related to biomimicry's recent surge into popularity, but finding information dating back further than fifteen to twenty years is difficult. I have found that this is the case because the term Biomimicry was not really popularized until Janine Benyus released her book on it in 1999. After the book gained a following, the concept of biomimicry started to take off. However this does not mean that before 1999 humans did not base any of their innovations off of the earth. It is just tricky to figure out what wording to use to find these older examples. One area of study that I am looking forward to researching is Native American culture. I have been thinking about which civilizations and cultures were the most efficient implementers and avid users of biomimicry, and how these implementations can still be useful today and into the future.
---
Sarah Stradling
Internship Location: University Libraries, Special Collections Description and Access, Thompson Library
Supervisor: Cate Putirskis, Special Collections Processing Manager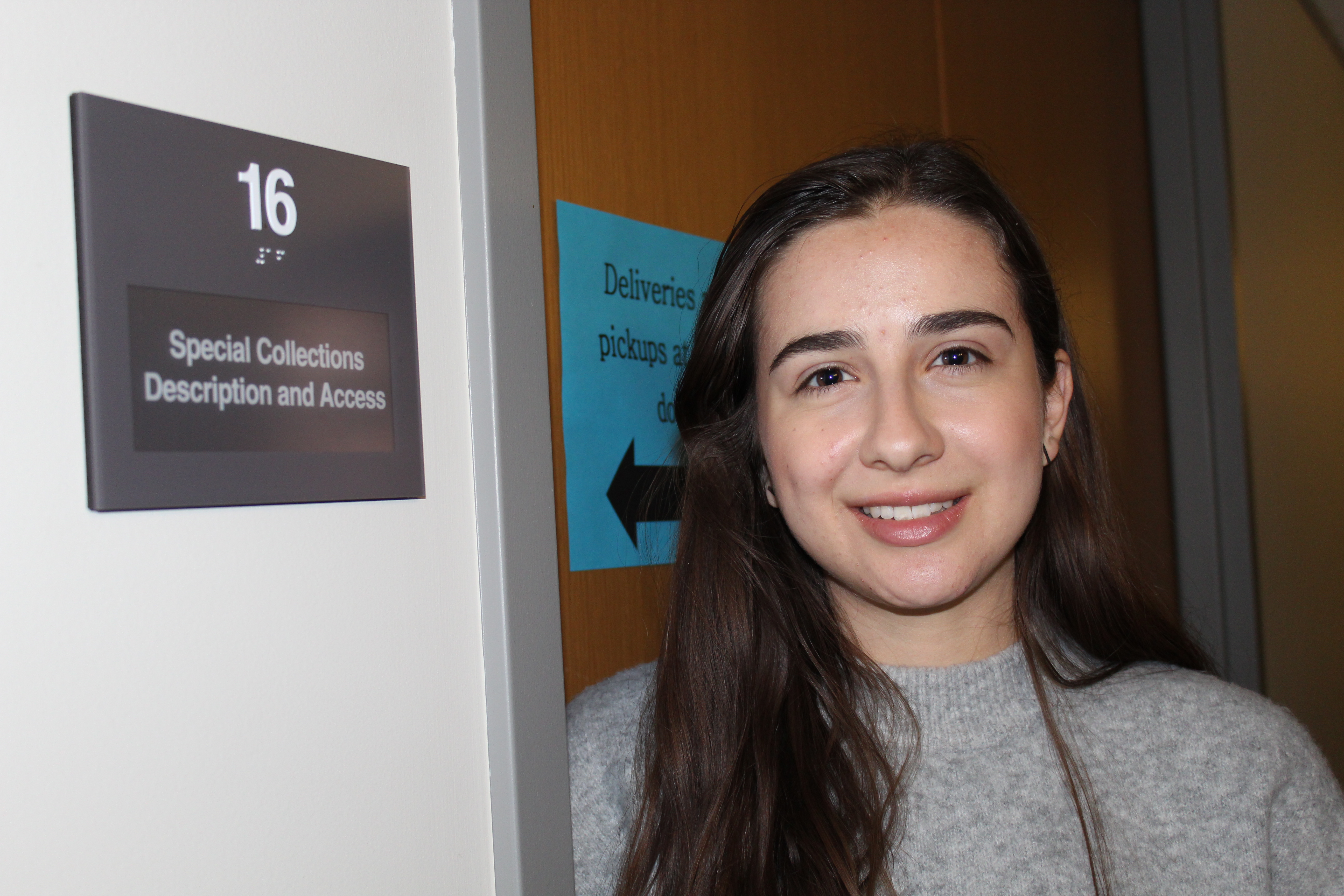 Sarah Stradling Outside Special Collections
My internship at Thompson's Special Collections Description and Access Department is really building upon the skills that I've picked up as a history major. For one thing, it helps to have familiarity with the subject matter of the collections that I process, so my coursework on 20th century military history has really helped me to sort through documents about World War II War Crimes and the Special Operations Executive in France. Once I have a grasp on the materials, I have to enter metadata into an online finding aid. My experience with history research and writing really helps me to synthesize the information into succinct historical and bibliographic notes. I have really enjoyed seeing the process of adding primary sources to the research database for researchers to find!
---
Read about our Spring 2017 History 3191 Interns' Experiences here.