Ben Beswetherick
Internship Location: Ohio History Connection--Community and Government Relations
Supervisor: Todd Kleismit
Ben says, "My internship is with the Director of Community and Government Relations at the Ohio History Connection. An important part of my adviser's job is securing budget increases for the organization and advocating with government representatives on behalf of history in general. My role is to research and gather information on various issues that may be of concern to the historical community. Some pending issues include the de-funding of various arts and humanities endowments at the national level. With this information I help to generate letters that people can send to their representatives on behalf of several historical causes. My adviser can then contact the many people on his email lists that may be interested in these causes."
During his internship, Ben has also served as a judge in History Day, an event in which he participated when he was in middle school.
---
Jenna Cosentino
Internship Location: Special Collections, Thompson Library
Supervisors: Cate Putirskis and Jolie Braun
Jenna states, "For the Thompson Library Special Collections I have been working on archiving World War II documents. I have been working mostly with correspondence, but also with diaries, journals, and photographs. I organize the documents, repairing them, re-foldering them, preparing them to be open to the public. I also enter them into Archival Toolkit, a computer system that organizes collections so they can found on the library website and then requested by users."
---
Nick Crockett
Internship Location: Historic Costume and Textiles Collection
Supervisor: Gayle Strege, Curator
Nick says: "The mission of this organization here at Ohio State, which holds over 11,500 pieces of clothing, is to collect and preserve apparel and textile artifacts of various origins that represent materialculture, while also providing access to these artifacts through research and exhibitions. My primary responsibility throughout this internship is collections management, which involves cataloguing and organizing items received by the museum or that are taken out of storage for exhibits, class tours, or research. This involves using the PastPerfect software, which has been a useful software to learn since it is the primary museum program throughout the country. Another duty of mine is exhibition preparation and installation. Lastly, the main project I will also be working on throughout the semester is creating a virtual exhibit involving various artifacts within the collection, using Omeka web creation software. These tasks will require a great attention to detail and organization, two things which I am very focused on in my work. They will also give me valuable experience with archives and using various programs that will likely be useful in my future career."
Online Exhibit: Columbus Fashion Story
Nick's work focuses on Columbus tailors. In pics, he is preparing a post for the online exhibit on M. C. Lilly, a Columbus tailor who specialized in military style clothing, especially uniforms and garments worn by members of fraternal organizations. The frock coat in the picture was worn by Henry Clay Taylor, the Judge Advocate General of the state of Ohio, and dates to about 1904. It would have been worn for formal events such as parades and ceremonies.Gayle Strege, Curator
---
Beth Crowner
Internship Location: Jerome Lawrence and Robert E. Lee Theatre Research Institute
Supervisor: Dr. Beth Kattelman, Associate Curator
Beth states, "I'm working with the Fred. D. Pfening Collection at Thompson Library's Special Collections department. The collection is a range of theatre memorabilia from around 1850 to 1975, and it includes newspaper mats, articles, pictures, programs, tickets, and other printed materials. Subjects include Broadway, local theatres, burlesque, vaudeville, circuses, wax museums, plays, operettas, and sideshow performers like spirit mediums, comedians, and acrobats. My internship involves working through as much of the collection as possible, and quickly selecting the most interesting and appealing artifacts to document, since I never have time to work through an entire box. On the artifacts I choose to document, I record details like important names, dates, play titles, size, what kind of artifact it is, and any potential damage or need for preservation. I'm going to be updating a significant portion of the collection's database next, to input the information I've collected, then I'm going to be taking 10-12 pieces and making a digital collection out of them, to advertise the library's collection to the public and researchers."
---
Amber Dock
Internship Location: Capitol Square Review and Advisory Board of the Ohio Statehouse
Supervisor: Dayna Jalkanen
Amber shares, "I assist with tours, primarily when there is a large group that may trail behind or wander off, and also when a group needs the elevator but the whole group won't fit inside one. This simply streamlines the tour process and is a great help to the volunteer guides. For research, I selected a feature in the Statehouse which I thought was not well enough explored and have been investigating the reasons for the stark differences between the ornate plasterwork in the very Greek-Revival style building. Along with this, my research has branched out into how these pieces were restored during the building-wide restoration project. I have also been interested in the symbolism of the different pieces."
---
Justin Faulhaber and Joel Williams
Internship Location: Museum of Ohio, Ohio History Connection
Supervisor: Dr. Kimberlee Kiehl, Director, Museum of Ohio Project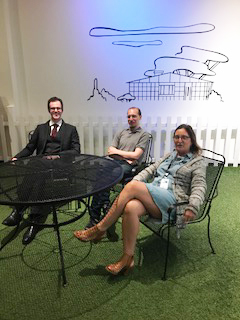 What Justin Says About His Experience:
"This internship gave me experience for the world of future employment by allowing me to gain more experience interacting in a professional setting with my supervisor. I had semi-regular meetings with her where I had to present to her what I had been researching and talk about my ideas about what to look at going forward. I also gained experience with networking. There were other areas of the museum that I was interested in working with and I found that Dr. Kiehl was willing to help me by reaching out to some of them. As a result, I was able to work on another project for a little while. I hope that she will be able to connect me with Cliff, the man who is in charge of the museum's antique firearm collection."

What Joel Says About His Experience:
"When I started this internship I wanted to make an impact on the city of Columbus before I left it. While my educational future still likely lies outside of Columbus, this experience in interacting and helping to put together the history of Ohio has persuaded me that Columbus may be the place I want to return. Not just academically, but as a person this project has given me an appreciation for who I am and where I want to go. Shifting the area of my research from Native American history to the Columbus Crew only amplified that, making me feel a part of the modern history of Columbus. It reinforced my desire to work with museums going forward, and allowed me to appreciate the schedule and goal flexibility required to thrive in such an environment."
---
Avery Gordon
Internship Location: Marketing and Communication, Ohio History Connection
Supervisors: Shannon Thomas, Director of Marketing and Communication, and Stephanie Perkins
Avery works with the Content Management System on the Ohio History Connection's website. Part of his job this semester involves mapping the organization's website to help determine how useful its current organization is, as well as making sure that website pages are tagged in a way that enables users to access them with appropriate keywords.
Here is what Avery says he is learning working in marketing:
"On my first day I was given a large packet on Ohio History Connection's Brand Guidelines. . . .The brand guidelines are essentially a tool book [presenting] how Ohio History Connection wants to represent its brand in both verbal and visual marketing material. It covers things such as brand voice, which is the tone and style of writing the copy should be written in, as well as their logo and color template, and target audience. . . .The biggest thing that is emphasized in the brand guidelines is using an active voice that is vivid, evokes visuals, and tells a story. The book also says to stay clear of language that is 'museum-speak,' which comes off as dry. . . . As well as covering their core values of relevance, authenticity, inclusivity, stewardship, and working together, these guidelines are something I would find very effective and appealing to a large general audience, and the tone that it recommends is one that would draw people into history who may be otherwise uninterested. Even though these guidelines are specific to Ohio History Connection, I have found them to be especially useful in understanding marketing and how to advertise to people."
---
Matt Hill
Internship Location: WOSU
Supervisors: Mary Rathkey, Senior TV Producer and Diana Bergman, Television Producer
Matt states that, "The internship I am currently involved in is for WOSU public broadcasting. My main task under supervisors Diana Bergman and Mary Rathke is to find information pertaining to the role that Central Ohio, and more specifically Columbus, played in the First World War. I am currently working alongside Aaron O'Donovan, an expert in local history and genealogy, at the Columbus Metropolitan Library. Aaron has assisted me greatly with using microfilm and newspaper indexes. Diana, Mary, and I have been having meetings to discuss the information I have found. We will decide how to interpret the information and stories that I have gathered and the most effective ways to present them to the public. Deciding on whether something will be presented to the public through video or in writing is an interesting process, and sometimes it can be a bit disappointing when a story does not flesh out into a full piece, but I am learning that that is just a part of the process. I am very excited to see what the product of all of this will be."
---
Christina Holmes
Internship Location: University Archives
Supervisor: Kevlin Haire, Assistant Archivist
Christina says, "In my internship, I am helping to prepare for the university's 150th anniversary, by researching the stories of the original alumni and faculty of the university in 1870. I was presented with a box of loose documents from the mid-late nineteenth century. I've read and logged these into Microsoft Excel, based on document type (financial documents, correspondence, contracts, receipts, etc.) along with any essential information contained in the document (what it was in regards to, who it was from/to, dollar amounts, etc.). Additionally, I've been using Ancestry.com to utilize public records to research if the original alumni and faculty had any children and/or spouses, and logging this information into Microsoft Excel as well. What I'm doing is important because, as part of the university's 150th anniversary celebration, it will form a part of what will be expanded into a larger presentation where thousands of students and faculty, past and present, can learn about and appreciate the founding and beginnings of The Ohio State University."
---
Marcus McCrary
Internship Location: Oral History, Ohio History Connection
Supervisor: Cameron Wood
Marcus's supervisor in the Oral History department was Cameron Wood.
Marcus says, "At the OHC my supervisor Cameron Wood and I enjoy ourselves. However, we are productive as well. A typical day varies, depending on if we have interviewees coming in that day or not."

"On a interview day, the interviewees come to the main OHC building, and I tend to sit behind the camera next to Cameron and take notes on a clipboard, scribbling keywords, important subjects, and the timestamp as to when they said these things. Toward the end of my internship, I was granted permission to ask questions."

"On a non-interview day, I come into the Ohio Village to do more of the behind the scenes stuff. I do indexing and create sub-sections of each interview, separating by topic. I have been working on Professor Peter Mansoor's 5 hour and 47 minute long interview."
---
Melissa Millward
Internship Location: Ohio History Connection, Timeline
Supervisor: Bill Eichenberger, editor-in-chief, Timeline
Melissa says, "I help Bill Eichenberger, the editor-in-chief for Timeline magazine, with tasks for a number of his assignments that he is currently working on. For an upcoming author series, Bill was interested in sending out an information card to college English departments around the state of Ohio and to the surrounding Columbus area high schools. My job was to get contact information and mailing addresses in an organized fashion. Another project included an article focusing on Paul Newman, for which Bill asked me to collect quotations from various sources about Newman's time spent at an Ohio college. I was also able to get directly involved in marketing by working a sales booth outside a lecture organized by the Ohio History Museum. These tasks contribute to the production of a popular history magazine with both quality stories and an abundance of pictures and illustrations."
---
Haley Ritzert
Internship Location: Thompson Library
Supervisor: Nina Couch (shown in photo with Haley)
Haley Ritzert, Senior, is currently participating in an internship in Special Collections in the Thompson Library. Her supervisors are Professor Nena Couch, Special Collections Curator and Cate Putirskis, Special Collections Processing Manager. Haley has previously studied abroad in Austria, Hungary, Poland, Slovakia and Lithuania and speaks German, Czech, and Yiddish.
Her Senior Thesis title is, "Diplomatic Relations Between Austria-Hungary and Bulgaria During the Balkan Wars, 1912-1913"
Haley says, "My internship in Special Collections involves transferring collection items from one database (PastPerfect) to another (Archivists' Toolkit), as well as writing blog posts about Central European theatre artists whose work will be featured at Columbus Museum of Art for the Theatre Research Institute's blog. Later in the semester, I will also be writing finding aids for the items in our collection."
Haley also meets with Czech visitors who come through Special Collections as part of their visit to the Columbus Museum of Art's exhibit "Shakespeare in Prague: Imagining the Bard in the Heart of Europe."
As part of Haley's internship, she is writing blog posts. Check out her latest one, "Shakespeare in Prague and Bratislava: the work of Čestmír Pechr" at http://ow.ly/AhSf309uoBj
---
Patrick Steffan
Internship Location: Ohio History Connection, Digital Media
Supervisor: Ty Pierce
Patrick shares, ""I work in digital services, a general department for everything electronic. OHC has a vast digital database of artifacts mostly from or pertaining to Ohio. Part of my job is to search this database, called Ohio Memory, to create collections of artifacts that share a common theme or are about a particular event, person, or time in history. I find these items by searching terms within Ohio Memory (kind of like Google). Many of these items are digital pictures of letters, pictures, objects, and newspapers.
"Search terms do not usually capture the text of artifacts (except for newspapers or typed letters). Because of this, . . . information about these artifacts, called meta-data, is attached to an artifact. . .. I make sure that the metadata for an artifact is correct.
"After finding artifacts I put them into a digital collection that school kids can use to practice researching for school projects. My work is significant because it limits the search of students to the most relevant material and helps them to develop basic research skills."
---
Yi Xiao
Internship Location: Public Programs, Ohio History Connection
Supervisor: Susan Brouillete
Yi says, "My job in the Visitor Experience department at the Ohio History Connection has largely involved (under Susan's leadership) collecting, extracting and arranging historical information about 1890s Ohio towns and cities. My work can be separated into three parts depended on the specific materials I am dealing with. One part of my work has been to read city directories and extract information from them about different cities in Ohio. This part of my work will be used by those interpreting life in the 1890s at the village located at the Ohio History Connection. The second part of my work has been to look up weather history in Columbus for the last 6 years for specific dates and occasions. This part of my work mostly helps Susan in event managing and scheduling. The final part of job has been to read old newspaper from 1898 Ohio on the Chronicling America website to find out any information there related to tennis, basketball, golf, and bicycling. The information will eventually be used to help interpreters in the village."