March 9, 2023
Eva Scherrer and Katelin Vela Present Projects at Denman
Image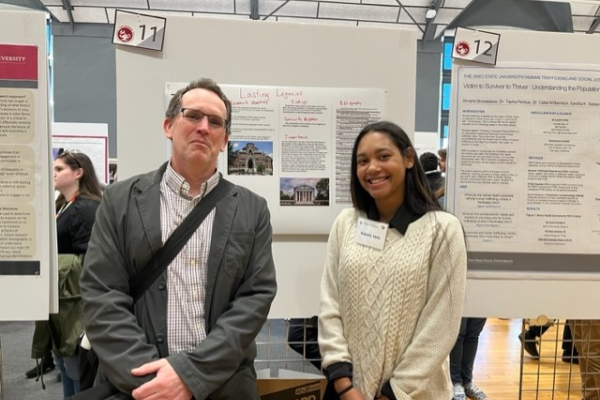 Description
Congrats to Eva Scherrer and Katelin Vela on their participation in the Ohio State Denman Undergraduate Research Forum on March 7th!
Over 200 seniors presented their research at the event on Tuesday, March 7th at the TDAI Ideation Zone in Pomerene Hall.
Eva's project is "Bananas Beyond Borders: The United Fruit Company and its Informal Empire in Latin America (1899-1935)." Her advisor is Alice Conklin. Katelin's project is "Lasting Legacies: How American Universities Have Begun Confronting the Legacies of Slavery." Her advisor is Nicholas Breyfogle.
(Left to right: Eva Scherrer and Prof. Alice Conklin)
(Left to right: Prof. Nicholas Breyfogle and Katelin Vela)
---