January 13, 2023
New Book by David J. Staley
Image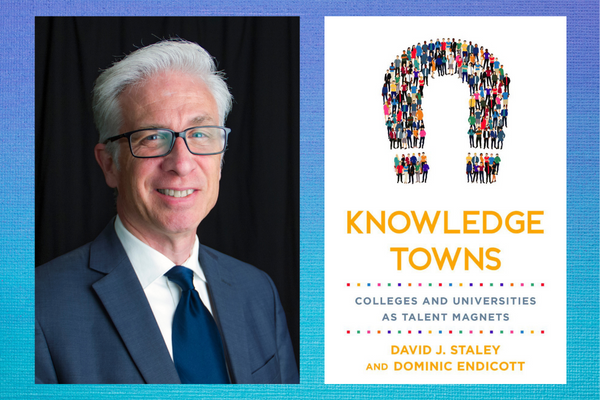 Description
Congratulations to David Staley on the upcoming publication of his new book, "Knowledge Towns, Colleges and Universities as Talent Magnets," (Johns Hopkins University Press, March 2023). 
The remote work revolution presents a unique opportunity for higher education institutions to reinvent themselves and become talent magnets.

In Knowledge Towns, David J. Staley and Dominic D. J. Endicott argue that the location of a college or university is a necessary piece of any region's effort to attract remote knowledge workers and accelerate economic development and creative placemaking. Just as every town expects a church, bank branch, post office, and coffeehouse, Staley and Endicott write, we will see a decentralized network of institutions of higher education flourish, acting as cornerstones for the post-pandemic rebuilding of our society and economy.
In calling for a "college in any town," they are not simply proposing placing a traditional college within a town or city, but envisioning instead a particular kind of higher education institution called a "knowledge enterprise." In addition to providing the services of a traditional college, a knowledge enterprise acts as a talent magnet, attracting workers looking to move to cheaper and more attractive destinations.
With the post-COVID-19 shift to more remote work, and millions of people moving to more affordable and livable cities, a place that wants to attract talent will require a thriving academic environment. This represents a new opportunity for "town and gown" to create collaborative communities. The pandemic has accelerated existing trends that put at risk the viability of many colleges and universities, as well as that of many towns and cities. The talent magnet strategy outlined in this book offers colleges and towns a plan of action for regeneration.
More information is available here.
---