February 22, 2022
Mike Fairman: Mountain climber, veteran, history major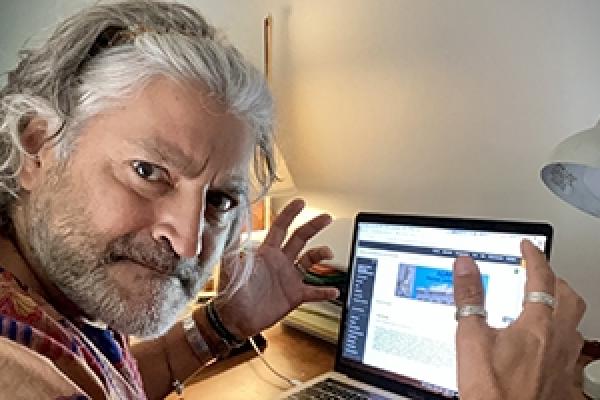 Mike Fairman, a history undergraduate student, atop Aconcagua, the highest mountain in South America.
Written by Evan S. Drexler
This story discusses issues of mental health and suicide. If you or someone you know is struggling with mental health or experiencing suicidal thoughts, please reach out to get help. Visit Ohio State's Suicide Prevention Program for resources and other information.
---
Ask Mike Fairman to describe himself, and he has a hard time giving a quick summary. Where to even begin?
Should he start by telling you about his two decades in the military, where he served in the U.S. Navy and was deployed to multiple countries?
Should he discuss his mountain climbing prowess, noting that he has climbed the highest peaks on five of the globe's seven continents, including Mount Everest? Or how that hobby has turned into running a charitable organization that focuses on suicide prevention among veterans?
Maybe he'd begin his story with what he's doing right now. Four decades after dropping out of high school, Fairman, 56, is enrolled at Ohio State to earn a degree in history, studying a subject that has interested him for his entire life.
It's been quite a while since Fairman last had homework assignments — he remembers completing schoolwork on a typewriter — but now he sees his Ohio State undergraduate education as something that can combine his incredible real-world experiences and many passions.
"Science, anthropology, religion, philosophy, they're all trying to answer the same question: Where do we come from? Who are we? Where are we going?" Fairman said. "Why not just align [those topics]? If you try to align everything, maybe there's a way to have more critical thinking."
Getting a degree from Ohio State was something afforded to him by the COVID-19 pandemic, which postponed his plans to join the "7-50 Club." Members of that club have climbed to the peak of all seven of the highest mountains on each continent as well as the highest points in all 50 states. He's reached the top of five of the seven continental high points (only Mount Elbrus in Russia and Denali in Alaska remain), and he's got fewer than 10 state high points to go.
(full size)
Mike Fairman has climbed some of the world's tallest mountains.
But everywhere he goes, Fairman carries with him an important mission.
During his second stint in the military following 9/11, Fairman lost friends and fellow soldiers in Iraq, soldiers who were by then young enough to be his own children. In Afghanistan later, he started losing soldiers by suicide.
A combination of grief from those losses, his then-undiagnosed bipolar disorder and PTSD medication led Fairman to try to take his own life in 2012.
Fairman always enjoyed climbing to relax and for adventure, taking trips to scale mountains with his climbing partner, Steve Redenbaugh. But after attempting to take his own life, he realized climbing could also be his therapy. And it could be a way to help others struggling with the same things he felt.
"It's just the joy of taking in creation, this joy of this environment," Fairman said. "But for me the biggest thing is, when I sit outside and look at a cloud, I can know that I've walked above that cloud and looked down on it. It's peaceful. You have to be able to get lost for hours, one foot in front of another."
Fairman at the peak of Mount Vinson in Antarctica, carrying his Summit for Soldiers flag.
After his recovery, he began working on his 7-50 journey, bringing his custom-made "Silently Fallen" flag with him on climbs. The flag bears the names of veterans who have been lost to suicide.
In 2014, Fairman and Redenbaugh officially founded Summit for Soldiers as a nonprofit organization that offers community and encouragement to struggling veterans and their families through what Fairman calls "Adven-Therapy," short for "adventure therapy." Often, Summit for Soldiers involves taking climbing or nature-based trips. But just as often, it can be a place where veterans get support from others.
"It's not about the climbing. It's not about the adventures," Fairman said. "It's about the camaraderie and support. What we can do is remove your isolation. That's been the focus of our group, how to remove that isolation."
With his goals in focus, Fairman traveled to dozens of countries and conquered mountains everywhere he went. He reached the top of South America's highest mountain, Aconcagua, in 2014. In September that year, he crossed Mount Kilimanjaro off his list. In 2014, a failed attempt at summitting Everest (the climbing season was cancelled due to an avalanche) had him thinking he'd never get another chance. But in 2016, a last-minute opportunity arose, and he found himself back in Asia, at the mercy of 2,000 feet of ice with chunks the size of houses falling all around him.
"I have no business being here, and what a privilege it is," Fairman said. "This is awesome, a giant ice cathedral."
As always, his Summit for Soldiers flag joined him at the top.
Wherever he has traveled, his love for history, theology and anthropology has also been top of mind. Whether it's in Middle East destinations like Golan Heights or Jericho or whether he's collecting Greek and Roman coins, Fairman is always eager to learn and expand his knowledge.
That quest for continued growth brought him to Ohio State, where he is working on projects about warfare in the Bible as well as the role and significance of music and entertainment throughout history.
He's still hoping to make some more history of his own. In his dream scenario, climbing Denali one day will simultaneously be the seventh continental and 50th state high point he summits. He has also said, though, that if his 7-50 quest comes to an end right now, he'll be OK with it. The message about mental health awareness and supporting veterans in need is more important than anything.
According to a 2021 report from the U.S. Department of Veterans Affairs, more than 6,000 U.S. veterans died by suicide in 2019. Fairman believes the true number is closer to 8,000. He doesn't expect all of them will be able to climb the highest peaks on Earth, but he's dedicated his life to understanding the world, inspiring others and bringing those numbers down.
"You don't have to climb Mount Everest," Fairman said. "Your Mount Everest is just reaching out for help."
---