November 18, 2022
Undergraduate Spotlight: Lauren Sullivan
Image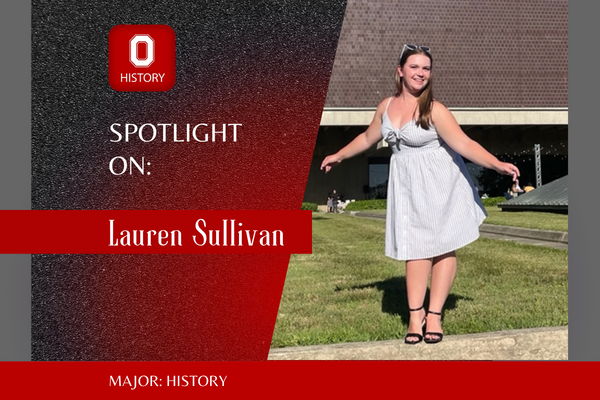 Description
Lauren Sullivan is a history major, minoring in dance, from Marysville, OH. 
What do you enjoy most about studying history?
I enjoy studying history for the stories it tells. This is why I love social history, looking at the past on a day-to-day scale and connecting with everyday people. In every time period, I strive to find the human element and truly understand people.
Why did you choose to be a history major? 
I chose to be a history major because someday I would like to teach high school history. A history major is the first step before I apply for the Master of Education in Integrated Social Studies. I adore history and want to share that with others, particularly students who do not believe history is relevant to their lives.
What are the favorite history courses you have taken at Ohio State and why?
Some of my favorite history courses at Ohio State are Women and Gender in Early Modern Europe (Hist 3641) and History of Ohio (Hist 3030). Women and Gender in Early Modern Europe looks at the lives of women through the body, the mind, and the spirit providing a holistic approach to studying gender. History of Ohio is a fascinating class, giving the backstory for the area we live and work in.
If you could take the place of a historical figure (either dead or alive) for one day, who would you choose and why?
If I could take the place of a historical figure for one day, I would choose Marjorie Post. Post inherited the Postum Cereal Company when her father died, turning it into the global food empire General Foods. Like Rockefeller and Carnegie before her, she grew the corporation by acquiring smaller food companies. Post was a force, breaking the mold of what women could be in the 1910s and 1920s. She revolutionized the food industry and the expectations for women at the time.
What's one thing you wish every Buckeye knew about the past?
I wish every Buckeye knew that history is all around us. It is not some dusty book you pull off the shelf when you choose. History is your morning coffee, the soil under your feet, and the buildings you pass on the way to class. You are steeped in the past, like tea in hot water. Everything around you has a story, even the most mundane objects. My goal as a future history teacher is to open students' eyes to these stories.
What do you like best about being a student at Ohio State?
The best thing about being a student at Ohio State is the opportunities such a large campus offers, such as the Historic Costume & Textiles Collection. When writing a paper on material culture, I had the opportunity to study a pair of stays from the 1790s. The collection is beautifully preserved and offers an intimate look into the lives of historic people through their clothes. Ohio State offers so many opportunities for research, including primary sources beyond the written word.
---